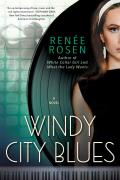 Author: Renee Rosen
Series: None
Publication Date: February 28, 2017
Publisher: Berkley
Pages: 480
Obtained: publisher via NetGalley
Genre: Historical Fiction
Rating: 4.5/5
Bottom Line: A fantastic look at the Chicago Blues scene through the eyes of fictional characters


G

rab,

J

ust get it at the library, or

R

emove from your TBR list? Grab
Summary:
In 1960s Chicago, a young woman stands in the middle of a musical and social revolution. A new historical novel from the bestselling author of White Collar Girl and What the Lady Wants. Leeba Groski doesn't exactly fit in, but her love of music is not lost on her childhood friend and neighbor, Leonard Chess, who offers her a job at his new record company in Chicago. What starts as answering phones and filing becomes more than Leeba ever dreamed of, as she comes into her own as a songwriter and crosses paths with legendary performers like Chuck Berry and Etta James. But it's Red Dupree, a black blues guitarist from Louisiana, who captures her heart and changes her life. Their relationship is unwelcome in segregated Chicago and they are shunned by Leeba's Orthodox Jewish family. Yet in the midst of the Civil Rights Movement, Leeba and Red discover that, in times of struggle, music can bring people together. ~amazon.com
Review:
If you are looking for a novel that blends history and fictional characters so well that you consult Google, then
Windy City Blues
is for you! Having grown up in the suburbs of Chicago and spending my college years there, I am always intrigued by all the history it has to offer. I'm also quite astounded by the things I don't know.
What I loved about this novel is the rich history of the Chicago Blues scene but also how Ms. Rosen weaved in the Civil Rights movement. I love how Leeba leaped into that movement with Red, because it was something that both of them were affected by personally not just him because he was black. I can't even imagine being in a interracial relationship back in the 1950s and the trials and tribulations the dealt with, even up North. Leeba risks every thing because she falls in love with Red but they lift each other up and encourage each other in ways that no one every had before.
While this novel focuses on the music industry and specifically the Blues, it is multi-layered. Ms. Rosen deals with race relations, sexism, bigotry, family drama, and substance abuse. Each of the characters she brings into the novel has a purpose for moving the story forward. The story starts off slowly but that's not to say things aren't happening, it's just that she's laying the ground work.
I loved Leeba. She was tenacious, generous, loving, tough and strong. She knew what she wanted and didn't hesitate to go and get it. She wanted to write songs, so she did. She wanted to get someone to perform and record them, so she pestered Leonard until he let her record it. Her love for Red never wavered, even when he was in self-loathing mode. She stuck by him through all the ups and downs, which is what any marriage goes through. They had more uphill battles than plateaus though.
As the decade moves on we see the music industry shift how it does business, how the music interest changes and how this affects the musicians. I can only imagine how hard it is to become irrelevant when it is your livelihood. We see the Chess brother's struggle with the changing of the tide as well.
If you have any interest in the Chicago Blues scene or music history in general than I highly recommend
Windy City Blues
. I don't think you will be disappointed.

Google+