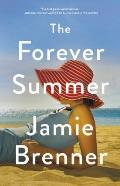 Author: Jamie Brenner
Series: None
Publication Date: April 25, 2017
Publisher: Little, Brown and Company
Pages: 368
Obtained: publisher via Netgalley
Genre: Contemporary Fiction, Women's Fiction
Rating: 4/5
Bottom Line: Captivating read about losing and finding yourself


G

rab,

J

ust get it at the library, or

R

emove from your TBR list? Grab
Summary:
Marin Bishop has always played by the rules, and it's paid off: at twenty-eight she has a handsome fiancé, a prestigious Manhattan legal career, and the hard-won admiration of her father. But one moment of weakness leaves Marin unemployed and alone, all in a single day. Then a woman claiming to be Marin's half-sister shows up, and it's all Marin can do not to break down completely. Seeking escape, Marin agrees to a road trip to meet the grandmother she never knew she had. As the summer unfolds at her grandmother's quaint beachside B&B, it becomes clear that the truth of her half-sister is just the beginning of revelations that will change Marin's life forever. THE FOREVER SUMMER is a delicious page-turner and a provocative exploration of what happens when our notions of love, truth, and family are put to the ultimate test. ~amazon.com
Review:
Forever Summer
is a book that you will fly through in one or two sittings because you will want to see how it all plays out in the end. Marin is career driven and focused, until a short office affair causes her to lose her job and lose the life she's been living. She's become a big un-moored and then a stranger shows up on her doorstep claiming they are half-sisters. So her life really isn't as it seems.
Rachel, on the other hand, couldn't be more excited to find out who her biological father is since she'll finally have the family she's dreamed of. Rachel's mom is more like her best friend than her mom and isn't the most stable of human beings. Rachel seizes this opportunity to redefine her life and her family history.
The person I felt the most for was Marin's mom Blythe. She has to reconcile a lot of her history with Marin and with herself. She has to reconcile her actions and the outcome of those. It is also her realizing that while her marriage wasn't necessarily a happy one or a true partnership, there was a lot of good to it.
There is a lot of wit and heart within the pages of this book but at times I could feel where the story was going and in the end it was wrapped up with a nice bow. Both girls found love and came to terms with what family meant to them and not really letting it define them.
I did fall in love with the setting of the novel and for me it was just as important as any of the characters in the book. It helped them heal and helped them change in a way that only some settings can do.
Forever Summer
is a book that you can sink yourself into and escape into a beachside B& B.

Google+