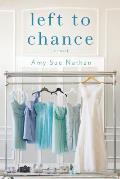 Author: Amy Sue Nathan
Series: None
Publication Date: November 21, 2017
Publisher: St. Martin's Griffin
Pages: 288
Obtained: publisher
Genre: Contemporary Fiction, Contemporary Romance
Rating: 3.5/5
Bottom Line: A sweet novel about coming home


G

rab,

J

ust get it at the library, or

R

emove from your TBR list? Library
Summary:
No one knows why Teddi Lerner left her hometown, but everyone knows why she's back. Twelve-year-old Shayna― talented, persistent, and adorable―persuaded "Aunt Tee" to return to Chance, Ohio, to photograph her father's wedding. Even though it's been six years since Shay's mother, Celia, died, Teddi can hardly bear the thought of her best friend's husband marrying someone else. But Teddi's bond with Shay is stronger than the hurt. Teddi knows it's time to face the consequences of her hasty retreat from family, friends, and, her old flame, but when she looks through her viewfinder, nothing in her small town looks the same. That's when she truly sees the hurt she's caused and―maybe―how to fix it. After the man she once loved accuses Teddi of forgetting Celia, Teddi finally admits why she ran away, and the guilt she's carried with her. As Teddi relinquishes the distance that kept her safe, she'll discover surprising truths about the people she left behind, and herself. And she'll finally see what she overlooked all along in Left to Chance by Amy Sue Nathan. ~amazon.com
Review:
Left to Chance
is a sweet novel about leaving home only to return home and find that you stayed away too long. Teddi left when her best friend died and she couldn't handle it. She fled to Chicago and ended up in San Francisco due to her job with the boutique hotel chain, Hester. Teddi is a well-known wedding photographer that is coming home to shoot her best friend's husband's second wedding. As hard as this will be for her, she's coming because Shay, Celia's daughter, has asked her to do it. She's not sure what she's in for coming home. She certainly didn't expect to see a thriving town with many things to offer. This Chance, OH is different than the Chance, OH she left 6 years prior.
Teddi left some baggage in her wake when she took off and now she's feeling the after effects. Most of the people she was the closest to have shut her out. To make matters worse, Shay is going through something but she won't open up to her Aunt Tee and no one is talking either. She's also getting the cold shoulder from her old-flame, who is Shay's Uncle and we slowly learn why. People are shutting Teddi out because they feel that she deserted them when they needed her most.
There were a couple of things that I wasn't expecting either, which was a nice surprise. I liked Teddi for the most part but there were a couple of times I wanted her to understand where other people were coming from a bit better. I know she didn't expect to just waltz back into their lives easily but she did think it would be somewhat easier to worm her way back in. Shay has been her only link to CeCe when she had other people she could have been remembering her with.
I enjoyed
Left to Chance
as a quick read during my holiday break. I found it to be a sweet story about friendships.

Google+