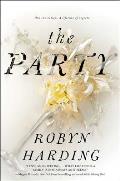 Author: Robyn Harding
Series: None
Publication Date: June 6, 2017
Publisher: Gallery/Scout Press
Pages: 352
Obtained: publisher via NetGalley
Genre: Contemporary Fiction
Rating: 3/5
Bottom Line: For all the hype I was disappointed


G

rab,

J

ust get it at the library, or

R

emove from your TBR list? Library
Summary:
In this stunning and provocative domestic drama about a sweet sixteen birthday party that goes horribly awry, a wealthy family in San Francisco finds their picture-perfect life unraveling, their darkest secrets revealed, and their friends turned to enemies. One invitation. A lifetime of regrets. Sweet sixteen. It's an exciting coming of age, a milestone, and a rite of passage. Jeff and Kim Sanders plan on throwing a party for their daughter, Hannah—a sweet girl with good grades and nice friends. Rather than an extravagant, indulgent affair, they invite four girls over for pizza, cake, movies, and a sleepover. What could possibly go wrong? But things do go wrong, horrifically so. After a tragic accident occurs, Jeff and Kim's flawless life in a wealthy San Francisco suburb suddenly begins to come apart. In the ugly aftermath, friends become enemies, dark secrets are revealed in the Sanders' marriage, and the truth about their perfect daughter, Hannah, is exposed. If you loved Liane Moriarty's and HBO's Big Little Lies, you'll love The Party by Robyn Harding. This fast paced book exposes how even the most perfect of families can be shadowed by lies and betrayals. This is one page-turner you're going to want to bring with you on vacation, to the beach, and add to your nightstand to be read. ~amazon.com
Review:
So much hype around
The Party
this summer but for this reader it fell short of it. I will say that it's a quick read. I will say that you need to be prepared for the shallowness that is in this book. It's not just from the teens either, it's the parental units as well. Honestly, there aren't a lot of likable characters in the book but hey that's life as well.
The story is told from various points of view and I think it could have been narrowed down because it muddied the story for me. Now I'm sure that if I had not gotten all those points of view, I would have wanted them to some degree. What shocked me wasn't that the kids broke the rules, it was how that impacted and changed them. Hannah was the most changed and not in the best way; she became what she despised. I never felt that the truth about Hannah was exposed other than she wanted to be every other teenager and fit in, be popular. I think they would be more shocked about how their daughter acted due to the aftermath of the party.
While this could have been an great expose on teens, family and parenting, it fell a little flat. It's about over parenting (i.e. helicopter parenting), teen behavior and taking ownership for your actions. No child is perfect and no parent is perfect either; trying to be perfect leads to disaster.

Google+