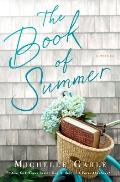 Author: Michelle Gable
Series: None
Publication Date: May 9, 2017
Publisher: St. Martin's Press
Pages: 416
Obtained: publisher via Netgalley
Genre: Contemporary Fiction, Historical Fiction
Rating: 4/5
Bottom Line: A story about the importance of memories and family


G

rab,

J

ust get it at the library, or

R

emove from your TBR list? Library
Summary:
The ocean, the wild roses on the dunes and the stunning Cliff House, perched atop a bluff in Sconset, Nantucket. Inside the faded pages of the Cliff House guest book live the spellbinding stories of its female inhabitants: from Ruby, a bright-eyed newlywed on the eve of World War II to her granddaughter Bess, who returns to the beautiful summer estate. For the first time in four years, physician Bess Codman visits the compound her great-grandparents built almost a century before, but due to erosion, the once-grand home will soon fall into the sea. Bess must now put aside her complicated memories in order to pack up the house and deal with her mother, a notorious town rabble-rouser, who refuses to leave. It's not just memories of her family home Bess must face though, but also an old love that might hold new possibilities. In the midst of packing Bess rediscovers the forgotten family guest book. Bess's grandmother and primary keeper of the book, Ruby, always said Cliff House was a house of women, and by the very last day of the very last summer at Cliff House, Bess will understand the truth of her grandmother's words in ways she never imagined. ~amazon.com
Review:
Book of Summer
is a wonderful story about family history and the stories that can get lost from generation to generation. Bess Codman comes home to help her mom, Cissy Codman, move out of the family house that is about to fall into the sea. Cissy Codman doesn't go down without a fight and a fight is what she's going to give them. Of course Bess thinks she's going to help pack but she pretty much does everything but that, including run into old flame, Evan. Bess is also using this time to adjust to the fact that the person she married wasn't anywhere near who she thought and how to rebuild her life after a divorce. Luckily, she's got a great career to go back to and a new apartment. Bess hasn't told her family all the details surrounding the demise of her marriage. Somehow she feels just fine unloading it all to Evan.
Through the Book of Summer, we get to know her grandmother Ruby and her formative years in Cliff House. We learn about her romance with Sam, her playful younger brother Topper and her budding friendship with Hattie. We also see the change of the US's part in World War II through the eyes of Ruby who just wants her husband and brothers safe. She does her part by joining various women's organizations. I enjoyed reading about Ruby and Hattie's escapades together.
Not only does Ruby's past come to light but Cissy's been holding back her own secrets as well. Bess is a bit thrown by all the family drama, including her own. As Bess struggles with her own predicament, she realizes how good it feels to be back home and how much she missed Cliff House.
I really enjoyed
Book of Summer
even if some of the parts were predictable. I enjoyed how family history is held in houses we occupy but most importantly the memories we create in the house rest in our hearts not in an object. If you are a fan of family drama, secrets and old houses you will want to pick up this book.

Google+