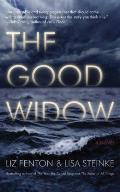 Author: Liz Fenton & Lisa Steinke
Series: None
Publication Date: June 1, 2017
Publisher: Lake Union
Pages: 368
Obtained: via Great Thoughts
Genre: Contemporary Fiction, Suspense
Rating: 4.75/5
Bottom Line: A great domestic suspense with a twists and turns


G

rab,

J

ust get it at the library, or

R

emove from your TBR list? Grab
Summary:
Elementary school teacher Jacqueline "Jacks" Morales's marriage was far from perfect, but even in its ups and downs it was predictable, familiar. Or at least she thought it was…until two police officers showed up at her door with devastating news. Her husband of eight years, the one who should have been on a business trip to Kansas, had suffered a fatal car accident in Hawaii. And he wasn't alone. For Jacks, laying her husband to rest was hard. But it was even harder to think that his final moments belonged to another woman—one who had left behind her own grieving and bewildered fiancé. Nick, just as blindsided by the affair, wants answers. So he suggests that he and Jacks search for the truth together, retracing the doomed lovers' last days in paradise. Now, following the twisting path of that fateful road, Jacks is learning that nothing is ever as it seems. Not her marriage. Not her husband. And most certainly not his death… ~amazon.com
Review:
Lightning strikes twice for Jacks when she learns that her husband was killed in a car accident in Hawaii and that he had another woman with him. This is how the beginning of
The Good Widow
kicks off and never really lets off the accelerator. Jacks is thrown into a deep, dark hole when she learns the fate of her husband, James. She has to wrestle with the fact that their last words before he left weren't of love but were of something else, because we aren't told for a while what transpired. She's determined to find out what happened and what went wrong but she's unsure how to make that happen. This is where, James' lover's fiance steps in, Nick.
Nick and Jacks journey to Hawaii to retrace the last steps of James and Dylan. They do everything they did and inquire about the deceased pair whenever they can. Like any journey, Jacks uncovers things she didn't know and maybe would have been better not knowing but it leads to other revelations.
Jacks wasn't a perfect wife but honestly, who is? No marriage is perfect and neither are the two parties in it. Did Jacks keep something important from her husband that might have changed the course of their relationship? Absolutely. I would like to think that if he had lived that they could have worked through both betrayals but not without a ton of therapy. Most importantly Jacks finds out that she is strong and can move on with her life.
I will admit that I saw a couple of the twists coming but I still wanted to see how Jacks would respond to these events. There was one that I didn't see coming but made total sense after the reveal. Liz and Lisa have done a fantastic job in their first suspense novel and I can't wait to see where their writing takes them next.
If you are looking for a book to kick off June with, look no further than
The Good Widow
.

Google+