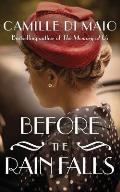 Author: Camille Di Maio
Series: None
Publication Date: May 16, 2017
Publisher: Lake Union
Pages: 334
Obtained: Get Red PR
Genre: Contemporary Fiction, Historical Fiction
Rating: 4/5
Bottom Line: A story of sacrifice, family, and forgiveness


G

rab,

J

ust get it at the library, or

R

emove from your TBR list? Grab
Summary:
After serving seventy years in prison for the murder of her sister, Eula, Della Lee has finally returned home to the Texas town of Puerto Pesar. She's free from confinement—and ready to tell her secrets before it's too late. She finds a willing audience in journalist Mick Anders, who is reeling after his suspension from a Boston newspaper and in town, reluctantly, to investigate a mysterious portrait of Eula that reportedly sheds tears. He crosses paths with Dr. Paloma Vega, who's visiting Puerto Pesar with her own mission: to take care of her ailing grandmother and to rescue her rebellious younger sister before something terrible happens. Paloma and Mick have their reasons to be in the hot, parched border town whose name translates as "Port of Regret." But they don't anticipate how their lives will be changed forever. Moving and engrossing, this dual story alternates between Della's dark ordeals of the 1940s and Paloma and Mick's present-day search for answers―about roots, family, love, and what is truly important in life. ~amazon.com
Review:
My first question before jumping into
Before the Rain Falls
was how does anyone actually serve 70 years in prison?! Seriously?! How can you even function? What is left for you on the outside? Will you even know how to function?These are all the issues Della Lee is facing as she returns to her home town to live out her days and to tell her truth about what really happened that fateful afternoon with her sister, Eula.
Mick is in Puerto Pesar to chase a story about the crying portrait of Eula Lee because he's basically in a scandal back home and his editor needs him to be scarce. Paloma is back in Puerto Pesar because her grandmother had a heart attack and needs to be cared for. She's torn about being home and also about starting her job in New York. She dreads being back but she's also pulled there as well. There is something about going home that leaves one with mixed feelings.
I loved how Ms. Di Maio told Della's story in flashbacks and also in telling her story to Mick. Mick realizes that the story isn't about if the portrait of Eula Lee but it is what Della has to say that needs to be told. As Della's story is revealed it isn't too hard to see what happened but why Della did it is ingrained in culture and religion.
Ms. Di Maio does a fantastic job of describing Puerto Pesar and the culture of a small town. In some of the scenes you feel that you are right there having mango margaritas and sopapilas with Mick and Paloma. I loved Paloma's relationship with her Grandmother; they really loved and cared for each other.
While this was my first time reading Ms. Di Maio, I will be going back to read
The Memory of Us
and I look forward to what she writes in the future.

Google+