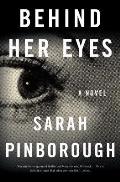 Author: Sarah Pinborough
Series: None
Publication Date: January 31, 2017
Publisher: Flatiron Books
Pages: 320
Obtained: publisher
Genre: Psychological Thriller
Rating: 5/5
Bottom Line: HOLY $%#$!!!!!


G

rab,

J

ust get it at the library, or

R

emove from your TBR list? Grab!
Summary:
Louise is a single mom, a secretary, stuck in a modern-day rut. On a rare night out, she meets a man in a bar and sparks fly. Though he leaves after they kiss, she's thrilled she finally connected with someone. When Louise arrives at work on Monday, she meets her new boss, David. The man from the bar. The very married man from the bar…who says the kiss was a terrible mistake, but who still can't keep his eyes off Louise. And then Louise bumps into Adele, who's new to town and in need of a friend. But she also just happens to be married to David. And if you think you know where this story is going, think again, because Behind Her Eyes is like no other book you've read before. David and Adele look like the picture-perfect husband and wife. But then why is David so controlling? And why is Adele so scared of him? As Louise is drawn into David and Adele's orbit, she uncovers more puzzling questions than answers. The only thing that is crystal clear is that something in this marriage is very, very wrong. But Louise can't guess how wrong―and how far a person might go to protect their marriage's secrets. In Behind Her Eyes, Sarah Pinborough has written a novel that takes the modern day love triangle and not only turns it on its head, but completely reinvents it in a way that will leave readers reeling. ~amazon.com
Review:
Behind Her Eyes
is the epitome of the psychological thriller. Regardless if loved or hated the ending of the novel, it definitely flips it all on a dime. It's simply a WTF moment. Of all the twists and turns I thought it might be didn't come to fruition; instead it was better.
Louise is someone who is a bit lonely. She works part-time as a secretary at a psychologists office and is a full-time mom to Adam, who is sick. So when Adam goes away for a month on vacation with his father, Louise finds herself with some time to spare. Enter meeting Adele and striking up a friendship with her. Louise finally feels like a priority in some one else's life and becomes a bit enamored with Adele even though she knows exactly who she is. She also can't quite let go of David as well and it seems that he can't let go of her.
What happens a month where Louise becomes so wrapped up in their lives that she loses focus of her own. Adele helps her with her night terrors and well David invigorates her in other ways. She is completely in over her head but she doesn't quite know it. Louis is completely likable and relate-able. You can feel for her struggles over finding herself single and a mom with primary care for her son. It can't be easy feeling that you don't have many options and in some ways are stuck.
Behind Her Eyes
is one of those books where the less that is said in my review the better off you will be simply because I don't want to ruin it. Trust me when I say you will want to read this quickly before someone does ruin it for you.

Google+