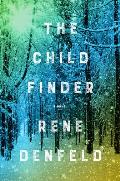 Author: Rene Denfeld
Series: None
Publication Date: September 20, 2016
Publisher: Harper
Pages: 288
Obtained: publisher
Genre: Mystery, Suspense
Rating: 4/5
Bottom Line: A slow burn of a novel that will stay with you long after you close it


G

rab,

J

ust get it at the library, or

R

emove from your TBR list? Grab
Summary:
Three years ago, Madison Culver disappeared when her family was choosing a Christmas tree in Oregon's Skookum National Forest. She would be eight-years-old now—if she has survived. Desperate to find their beloved daughter, certain someone took her, the Culvers turn to Naomi, a private investigator with an uncanny talent for locating the lost and missing. Known to the police and a select group of parents as "the Child Finder," Naomi is their last hope. Naomi's methodical search takes her deep into the icy, mysterious forest in the Pacific Northwest, and into her own fragmented past. She understands children like Madison because once upon a time, she was a lost girl, too. As Naomi relentlessly pursues and slowly uncovers the truth behind Madison's disappearance, shards of a dark dream pierce the defenses that have protected her, reminding her of a terrible loss she feels but cannot remember. If she finds Madison, will Naomi ultimately unlock the secrets of her own life? Told in the alternating voices of Naomi and a deeply imaginative child, The Child Finder is a breathtaking, exquisitely rendered literary page-turner about redemption, the line between reality and memories and dreams, and the human capacity to survive. ~amazon.com
Review:
The
Child Finder
is definitely a novel that is a slow burn because not only are you looking for a current child that is missing, but you are also peeling back the layers of Naomi and trying to figure her out as well. She searches for missing children because she herself is a missing child in some ways. There is something about this current case though, that has her memories becoming more vivid through her dreams than ever before. Will this be the key to unlocking her past?
As the stories weave in and out, we learn the hell that Madison has been through and pieces of Naomi's past start to creep back. It is Madison's story that is the most compelling though. How she creates an alternate life/person to protect the girl she was before. As a reader, you hurt for her and also realize that she's stronger than most kids. She's smart enough to learn to separate herself from the hell that she's living in.
There are parts of the story that will make you queasy and make you extremely angry. Yet, as the story begins to unfold you can only feel sorry for her captor because there is more to his story. Some how there is must more sinister history that Naomi is aware of as she begins to puzzle it together.
Naomi is a complex character. Her past is blank until she runs out into the strawberry fields to be rescued by the migrant workers. She feels drawn to save children who can't save themselves because she was able to save herself. Her relationship with Mrs. Cottle and Jerome are her anchors throughout her life. Yet, she's still searching for something and unable to rest until she helps all the kids she can.
With the ending of the novel, I'm hoping that Ms. Denfeld brings Naomi back for another book that focuses on her search, trying to find her history.

Google+