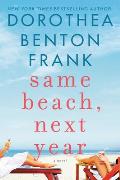 Author: Dorthea Benton Frank
Series: None
Publication Date: May 16, 2017
Publisher: William Morrow
Pages: 384
Obtained: TLC Book Tours
Genre: Contemporary Fiction, Women's Fiction
Rating: 4/5
Bottom Line: A intriguing look at marriage and how friendship can change that relationship


G

rab,

J

ust get it at the library, or

R

emove from your TBR list? Library
Summary:
One enchanted summer, two couples begin a friendship that will last more than twenty years and transform their lives. A chance meeting on the Isle of Palms, one of Charleston's most stunning barrier islands, brings former sweethearts, Adam Stanley and Eve Landers together again. Their respective spouses, Eliza and Carl, fight sparks of jealousy flaring from their imagined rekindling of old flames. As Adam and Eve get caught up on their lives, their partners strike up a deep friendship—and flirt with an unexpected attraction—of their own. Year after year, Adam, Eliza, Eve, and Carl eagerly await their reunion at Wild Dunes, a condominium complex at the island's tip end, where they grow closer with each passing day, building a friendship that will withstand financial catastrophe, family tragedy, and devastating heartbreak. The devotion and love they share will help them weather the vagaries of time and enrich their lives as circumstances change, their children grow up and leave home, and their twilight years approach. Bursting with the intoxicating richness of Dorothea Benton Frank's beloved Lowcountry—the sultry sunshine, cool ocean breezes, icy cocktails, and starry velvet skies—Same Beach, Next Year is a dazzling celebration of the infrangible power of friendship, the enduring promise of summer, and the indelible bonds of love. ~amazon.com
Review:
Seeing how I have never read Ms. Frank before I wasn't really sure what to expect from
Same Beach, Next Year
. I will admit, I was pleasantly surprised, it had more depth than I thought it would. We live two decades in the lives of two couples; Eliza and Adam, Carl and Eve but the story is mainly told through the eyes of Eliza with Adam chiming in here and there.
I liked Eliza but I thought she was too good for Adam. Adam is a bit self-involved and cocky. It's even more evident when they befriend Eve and Carl. Eve is a bit caught up in the superficial and Carl is consumed by his work as a pediatrician.
It is clear from the beginning that Eliza and Adam are in love and happy in their life that they share together. They have twin boys that keep them busy and have a construction company both of them are a part of. So when they happen upon Eve and Carl at the beach, they strike up a friendship. Little known to Eliza, although she can sense there's more to the story, Adam and Eve (yes, it's funny) have a history together. And this of course is where Adam completely messes up. He should have told his wife the truth in the beginning instead of burying it deep so that only he and Eve know the truth. So it festers over 20 years with it coming to a head one night.
For me it was amazing that Eliza let the sexual tension between Adam and Eve go on for so long. I know we get absorbed in our lives but seriously? I would have put that to bed early and called him out on his shit.
What I did like is that Eliza came into her own. Instead of living her life for her boys and Adam, she finally takes it into her own hands. I loved reading about her escapades in Greece and her love of cooking. I also appreciated that Ms. Frank didn't take the plot cliche way out in a couple instances during the novel. She shows how hard marriage is and what it takes to get through some tough times. I pretty much also want to live at the beach in the Lowcountry but sadly that's probably not going to happen, so I'll think about a vacation there some day!
If you are looking for a read while you are at the beach or pool this summer, then
Same Beach, Next Year
would keep you entertained.

Google+