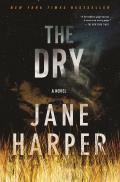 Author: Jane Harper
Series: Aaron Falk #1
Publication Date: January 10, 2017
Publisher: Flatiron Books
Pages: 336
Obtained: Library
Genre: Mystery
Rating: 4.75/5
Bottom Line: An almost perfect mystery that really is a whodunit


G

rab,

J

ust get it at the library, or

R

emove from your TBR list? Grab
Summary:
After getting a note demanding his presence, Federal Agent Aaron Falk arrives in his hometown for the first time in decades to attend the funeral of his best friend, Luke. Twenty years ago when Falk was accused of murder, Luke was his alibi. Falk and his father fled under a cloud of suspicion, saved from prosecution only because of Luke's steadfast claim that the boys had been together at the time of the crime. But now more than one person knows they didn't tell the truth back then, and Luke is dead. Amid the worst drought in a century, Falk and the local detective question what really happened to Luke. As Falk reluctantly investigates to see if there's more to Luke's death than there seems to be, long-buried mysteries resurface, as do the lies that have haunted them. And Falk will find that small towns have always hidden big secrets. ~amazon.com
Review:
The Dry
is one of those novels that ropes you in and then slowly and tightly unravels the story. It is the key to a superb mystery novel and Ms. Harper nails it.
In Aaron Falk, we have a flawed and human protagonist. He has locked his past away for the last 20 years until it comes barely back at him with the murder of his childhood best friend. As he comes in at the request of Luke's father, he's take back to when he lost another friend during high school. Aaron isn't exactly welcomed back with open arms especially since they were run out of town costing him and his dad everything. Aaron feels that he owes it to Luke to figure out what really happened that day. As Aaron develops an alliance with the detective, they delve into what could have happened on that fateful day. Is it tied to what happened to Ellie Deacon in the past? Or was Luke deep in financial debt due to the drought? Could he have really been that far gone to do such a horrible thing?
There are many suspects in The Dry and Ms. Harper does a great job of making each a viable option. Each character is richly drawn and you feel that you really know what makes them tick. What drives them to be the way they are? How much has the drought affected the small farming town? Is it what is making people edgy and more suspicious? Is it because Aaron used to be one of them but left under suspicious circumstances?
Ms. Harper basically lets you know the true suspect when she wants to and when she does, it makes a lot of sense. I like it when I can go back and follow the bread crumbs dropped by an author. I also appreciate when both plots come together in a way that makes sense. Aaron needed closure on Ellie's death and he got that by returning home to help the Hadley's.
If you are looking for a mystery that is taut but has an underlying keg of powder that might blow at any point, then pick up
The Dry
. I can't wait to see what Ms. Harper writes next.

Google+