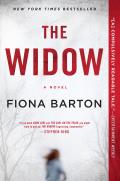 Author: Fiona Barton
Series: None
Publication Date: February 16, 2016
Publisher: Berkley
Pages: 336
Obtained: Library
Genre: Mystery, Suspense
Rating: 4/5
Bottom Line: A disturbing look at a child abduction and all the people it affects


G

rab,

J

ust get it at the library, or

R

emove from your TBR list? Library
Summary:
There's a lot Jean hasn't said over the years about the crime her husband was suspected of committing. She was too busy being the perfect wife, standing by her man while living with the accusing glares and the anonymous harassment. Now her husband is dead, and there's no reason to stay quiet. There are people who want to hear her story. They want to know what it was like living with that man. She can tell them that there were secrets. There always are in a marriage. The truth—that's all anyone wants. But the one lesson Jean has learned in the last few years is that she can make people believe anything...~amazon.com
Review:
Widow
is one of those novels that will make you wonder which side is up and what's the angle but when it comes down to it, it's a suspense novel that doesn't rely on a huge twist at the end. This was definitely refreshing for me. Not that I don't love a great twist, but that seems to be the go to plot device lately.
Jean is finally on her own after years of marriage to Glen who really controlled every aspect. She finally be who she wants to be and tell her story. Although when approached by reporters she doesn't seem to know if she wants to tell her side because there are always 2 sides. What it really boils down to is that she hasn't had her own voice ever. She went straight from her parent's house to Glen's. He controlled everything and she didn't mind, until she did.
Jean isn't an easy character to understand, she a waffler and very unsure of herself. There were times when I thought she had a mental illness because of how she would refer to herself. There were definitely times that I felt sorry for her but also those times where I felt she could have had the upper hand with Glen in their marriage and turned the tables on him.
While the book is really about Jean, you can't know her without knowing what Glen did and how he controlled her. It is about her complacency in her own life that drove me bonkers. While Glen was a sick SOB, Jean had her own issues and secrets but none as heinous as his.
I enjoyed the book a great deal but felt that at times it lagged and some of it could have been edited down to get to the climax a bit quicker. So if you are looking for a fast paced suspense, this may not be for you but if you prefer the slow reveal, you should pick up
Widow
.

Google+