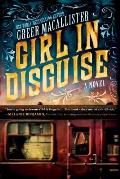 Author: Greer Macallister
Series: None
Publication Date: March 21, 2017
Publisher: Sourcebooks Landmark
Pages: 320
Obtained: publisher via NetGalley
Genre: Historical Fiction
Rating: 4/5
Bottom Line: A wonderful historical fiction novel with a kick-butt female protagonist


G

rab,

J

ust get it at the library, or

R

emove from your TBR list? Grab
Summary:
Inspired by the real story of investigator Kate Warne, this spirited novel follows the detective's rise during one of the nation's times of crisis, bringing to life a fiercely independent woman whose forgotten triumphs helped sway the fate of the country. With no money and no husband, Kate Warne finds herself with few choices. The streets of 1856 Chicago offer a desperate widow mostly trouble and ruin―unless that widow has a knack for manipulation and an unusually quick mind. In a bold move that no other woman has tried, Kate convinces the legendary Allan Pinkerton to hire her as a detective. Battling criminals and coworkers alike, Kate immerses herself in the dangerous life of an operative, winning the right to tackle some of the agency's toughest investigations. But is the woman she's becoming―capable of any and all lies, swapping identities like dresses―the true Kate? Or has the real disguise been the good girl she always thought she was? ~amazon.com
Review:
I seem to be on a Chicago history kick lately because that's the main setting for Greer Macallister's wonderful
Girl in Disguise
. Kate Warne is a force to be reckoned with and to behold. She doesn't shy away from challenges and one of her first hurdles is to just get hired on by Pinkerton. Of course, being the first female detective isn't going to be easy and she has her battles including the one where all her male co-workers think she's sleeping with the boss. Kate is damn good at her job and can slip into different persona's easily.
I loved the cases that Kate was put on because they showcased her skills and her keen ability to read people. This has to do with how she was brought up by her parents. She also hones her skills by watching how her partners do their job as well. Was Kate lonely? Absolutely and she wrestled with this all the time. She was married to her job and a man wouldn't understand that kind of dedication by a woman.
It's never easy to be a pioneer in anything but Ms. Macallister shows just what battle that was for Kate. She never stopped trying to be the best even when a lot was riding on her case, including the welfare of the country. She knew what needed to be done and got it done, even with great personal sacrifice.
I love knowing something that my husband doesn't know especially since he likes all the typical spy, subterfuge movies and he had no clue about the Pinkerton Detective Agency let alone the first female P.I. I have to say I was a bit smug about it. Plus then I had to use Google to find out if they are still around and they are but the focus is Risk Management.
Girl in Disguise
is a wonderful historical fiction novel with a strong, kick-butt female as the protagonist. I can't recommend this book enough!

Google+