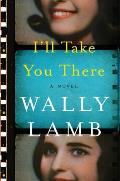 Author: Wally Lamb
Series: None
Publication Date: November 22, 2016
Publisher: Harper
Pages: 272
Obtained: publisher
Genre: Contemporary Fiction
Rating: 4/5
Bottom Line: A great story about how the women in the narrator's life influenced him


G

rab,

J

ust get it at the library, or

R

emove from your TBR list? Library
Summary:
I'll Take You There centers on Felix, a film scholar who runs a Monday night movie club in what was once a vaudeville theater. One evening, while setting up a film in the projectionist booth, he's confronted by the ghost of Lois Weber, a trailblazing motion picture director from Hollywood's silent film era. Lois invites Felix to revisit—and in some cases relive—scenes from his past as they are projected onto the cinema's big screen. In these magical movies, the medium of film becomes the lens for Felix to reflect on the women who profoundly impacted his life. There's his daughter Aliza, a Gen Y writer for New York Magazine who is trying to align her post-modern feminist beliefs with her lofty career ambitions; his sister, Frances, with whom he once shared a complicated bond of kindness and cruelty; and Verna, a fiery would-be contender for the 1951 Miss Rheingold competition, a beauty contest sponsored by a Brooklyn-based beer manufacturer that became a marketing phenomenon for two decades. At first unnerved by these ethereal apparitions, Felix comes to look forward to his encounters with Lois, who is later joined by the spirits of other celluloid muses. Against the backdrop of a kaleidoscopic convergence of politics and pop culture, family secrets, and Hollywood iconography, Felix gains an enlightened understanding of the pressures and trials of the women closest to him, and of the feminine ideals and feminist realities that all women, of every era, must face.
Review:
I'll Take You There
is another great novel by Wally Lamb as he explore the relationships within family. Specifically for Felix, his relationships with all of the females in his family; from his mother to his daughter and how it's shaped his life and how he views the world. Felix Funicello is later in life with an adult daughter who continues to amaze him. He's not so amazed by his ex-wife and prefers to think that his daughter was heavily influenced by him. Felix isn't one of those people that spend a lot of time worrying about the past and how things could have been different. He's more of a here and now guy so when an apparition appears and offers him the ability to look at his life on film, he's hesitant but curious; after of course he wonders if he going a little crazy.
As he goes through pivotal times in his life throughout the film, he begins to understand his relationships with both his sisters and his mother. Perhaps the relationship with the biggest effect on his life is his sister Frances. They had the typical sibling rivalry but it is obvious that Frances' ribbing of him goes much deeper. It isn't until Frances has health issues that the family begins to understand the issues are much greater than they had ever thought. He spends time viewing his life at different periods and it's pretty amazing how your mind can alter your perception of events to protect you.
Felix is a wonderful character and even though he's male and my dad's age, I could relate to him. We all get a little nostalgic and it manifests itself in a variety of ways. He's the kind of guy who would listen to you and then make movie recommendations based on what you've told him. He also has a fantastic relationship with his daughter Aliza, who is a talented writer but frustrated in her current situation.
I liked how Mr. Lamb wove in the Miss Rheingold story and how it wasn't just filler but it played a significant role in the story line of Felix, his sister and eventually his daughter. Mr. Lamb reminds us that to be a feminist you don't need to be a female. That men can champion the women in their lives just as clearly as the men. He also highlights that maybe using a little honey with your views can sometimes catch more interest than having such a hard stance. That sometimes you can't force your views on someone but demonstrate them by living your life in the manner in which you speak. This is definitely one of his shorter novels but it packs a punch and will stay with you long after you close the back.
I'll Take You There
then begs the question of the reader, would you want to relieve your past in film if offered the chance? Would you be afraid that your childhood wasn't exactly how you remembered it? What if highlighted how your relationships shaped you and how you viewed the world? Would that change your outlook? These are all questions that you will ask yourself as you read the novel.
If you are a fan or haven't read Mr. Lamb,
I'll Take You There
is a good place to start but really his best work is
She's Come Undone
.

Google+