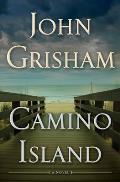 Author: John Grisham
Series: None
Publication Date: June 6, 2017
Publisher: Doubleday
Pages: 304
Obtained: Local Library
Genre: Contemporary Fiction, Mystery
Rating: 4/5
Bottom Line: An ode to book lovers with some mystery


G

rab,

J

ust get it at the library, or

R

emove from your TBR list? Library
Summary:
A gang of thieves stage a daring heist from a secure vault deep below Princeton University's Firestone Library. Their loot is priceless, but Princeton has insured it for twenty-five million dollars. Bruce Cable owns a popular bookstore in the sleepy resort town of Santa Rosa on Camino Island in Florida. He makes his real money, though, as a prominent dealer in rare books. Very few people know that he occasionally dabbles in the black market of stolen books and manuscripts. Mercer Mann is a young novelist with a severe case of writer's block who has recently been laid off from her teaching position. She is approached by an elegant, mysterious woman working for an even more mysterious company. A generous offer of money convinces Mercer to go undercover and infiltrate Bruce Cable's circle of literary friends, ideally getting close enough to him to learn his secrets. But eventually Mercer learns far too much, and there's trouble in paradise as only John Grisham can deliver it. ~amazon.com
Review:
Camino Island
is a great novel for those of us who love books and a shout out to independent book stores. If you are expecting a fast-paced, thriller for this Grisham novel, you won't get it. Now, that doesn't mean there isn't action, there is, but it's more of a slow burn and a mystery more than a thriller. It's a case of "is he guilty, or is he not". At times, I also wasn't sure who was fully trustworthy.
Mercer is young, out of work and in extreme debt due to her college tuition. She's got no prospective employers and is at the end of her time on campus with no next move. So when she gets a mysterious call with a very unique proposition, she really has no choice but to take the opportunity. Plus it takes her back to the place where the her fondest memories are of her childhood.
It doesn't take long for Mercer to endear herself to the locals since she's pretty much a local herself having spent most of her summers there as a kid. She starts to learn the personalities of the local writers and even gets advice even if it isn't necessarily requested. As she starts to get invited to book signings and dinners, things start to heat up for her. It's the fact that she's genuine that doesn't truly make anyone suspicious but it's not like she's really good at the spy trade. She's also a bit naive as to whom to trust and who to fall in bed with. I mean Elaine even clues her in about Bruce and she still falls for the charm. So whom is using whom?
I haven't read a Grisham book in a while but I was happy to get back to him with Camino Island. It was like putting on a pair of your most comfy pants and settling in for what you know will be a satisfying evening. While this isn't his typical legal thriller it is definitely still engaging and intriguing. I'm happy to know that I can return to his books and know I'm getting a great read.
Plus he really does give props to the independent and rare book stores out there. So a little bit of an insiders look into the business side of books.
If you haven't read Grisham in a while,
Camino Island
is a great way to spend some hours with one of our iconic authors.

Google+