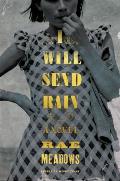 Author: Rae Meadows
Series: None
Publication Date: August 9, 2016
Publisher: Henry Holt
Pages: 272
Obtained: publisher
Genre: Historical Fiction
Rating: 4.75/5
Bottom Line: Thought provoking story about how tragedy can change us and our relationship


G

rab,

J

ust get it at the library, or

R

emove from your TBR list? Grab!
Summary:
Annie Bell can't escape the dust. It's in her hair, covering the windowsills, coating the animals in the barn, in the corners of her children's dry, cracked lips. It's 1934 and the Bell farm in Mulehead, Oklahoma is struggling as the earliest storms of The Dust Bowl descend. All around them the wheat harvests are drying out and people are packing up their belongings as storms lay waste to the Great Plains. As the Bells wait for the rains to come, Annie and each member of her family are pulled in different directions. Annie's fragile young son, Fred, suffers from dust pneumonia; her headstrong daughter, Birdie, flush with first love, is choosing a dangerous path out of Mulehead; and Samuel, her husband, is plagued by disturbing dreams of rain. As Annie, desperate for an escape of her own, flirts with the affections of an unlikely admirer, she must choose who she is going to become. With her warm storytelling and beautiful prose, Rae Meadows brings to life an unforgettable family that faces hardship with rare grit and determination. Rich in detail and epic in scope, I Will Send Rain is a powerful novel of upheaval and resilience, filled with hope, morality, and love. ~amazon.com
Review:
I Will Send Rain
is a beautifully written novel about the trials of the beginning of the Dust Bowl on a small town in Oklahoma. The Bells have worked hard to make their farm their own. Samuel and Annie left Kansas City to come get their own parcel land for free. Annie is a Pastor's daughter, so working the land is something new for her but she works side by side with Samuel to build their life. It isn't to say that life has been easy on them and the drought is about to make life a lot harder for them and the rest of the farmers surrounding them. Samuel and Annie have a 15 year old daughter, Birdie, who experiencing first love. Their son, Fred, doesn't speak but is very aware of those things surrounding him.
Not only is nature being cruel but things are changing within the Bell family as well. Samuel feels that he is being talked to by God in his dreams and is being called to do something instead of being a bystander. Annie is feeling restless and wants more than the farm life at this point. Birdie can only see as far as Cy and Fred is obsessed with finding bones of animals for his collection.
Ms. Meadows does a fantastic job of drawing you into the characters and their strife and triumph. I could feel the dust seeping into everything as I read the novel. I can't imagine the grit that was in everything. You can see the doom coming around the corner but I wasn't quite sure how she was going to handle it. You get to know each of these characters intimately and you care about what happens to them. You feel for Annie's boredom and resentment of Samuel's faith, when she has lost her own. You hope that Samuel's faith comes through for him. You know that Birdie is going to make a big decision and not look back. That decision might be the thing that keeps her parents from falling completely apart.
While the subject matter isn't sunny but it is hopeful. People can persevere over things that nature and other humans through at us and make a difference in the end. While the Dust Bowl was awful to experience, it taught farmers about the land and how to work it differently so that something like this didn't happen again.
If you are interested in a piece of our history that isn't always talked or written about, then I highly recommend
I Will Send Rain
.

Google+