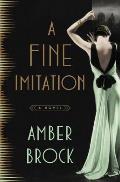 Author: Amber Brock
Series: None
Publication Date: May 3, 2016
Publisher: Crown Books
Pages: 304
Obtained: Amazon Vine
Genre: Historical Fiction, Mystery
Rating: 4/5
Bottom Line: Mystery thrown in with high NYC society in the mid 1920 and the expectations of women


G

rab,

J

ust get it at the library, or

R

emove from your TBR list? Grab!
Summary:
Set in the glamorous 1920s, A Fine Imitation is an intoxicating debut that sweeps readers into a privileged Manhattan socialite's restless life and the affair with a mysterious painter that upends her world, flashing back to her years at Vassar and the friendship that brought her to the brink of ruin. Vera Bellington has beauty, pedigree, and a penthouse at The Angelus--the most coveted address on Park Avenue. But behind the sparkling social whirl, Vera is living a life of quiet desperation. Her days are an unbroken loop of empty, champagne-soaked socializing, while her nights are silent and cold, spent waiting alone in her cavernous apartment for a husband who seldom comes home. Then Emil Hallan arrives at The Angelus to paint a mural above its glittering subterranean pool. The handsome French artist moves into the building, shrouds his work in secrecy, and piques Vera's curiosity, especially when the painter keeps dodging questions about his past. Is he the man he claims to be? Even as she finds herself increasingly drawn to Hallan's warmth and passion, Vera can't suppress her suspicions. After all, she has plenty of secrets, too--and some of them involve art forgers like her bold, artistically talented former friend, Bea, who years ago, at Vassar, brought Vera to the brink of catastrophe and social exile. When the dangerous mysteries of Emil's past are revealed, Vera faces an impossible choice--whether to cling to her familiar world of privilege and propriety or to risk her future with the enigmatic man who has taken her heart. A Fine Imitation explores what happens when we realize that the life we've always led is not the life we want to have. ~amazon.com
Review:
Fine Imitation
is a story about what happens when you are stuck in a life that you didn't particularly ask for but were born into? What happens when you find yourself so bored that you don't know what to do with yourself? If you are Vera Bellington you fill your days with teas and lunches and a bit of shopping if the mood strikes you. You then wait for your husband to come home from work to eat if he's not traveling. Marriage isn't really what Vera thought it would be but she pretty much assumes that it's the same for everyone as well.
We meet Vera during her Vassar days where she meets and befriends a vibrant young lady named Bea Stillman. They strike up a quick friendship and quickly become inseparable. Vera does things that she wouldn't have done before meeting Bea. This sets Vera's path in motion a bit quicker than she'd like.
Fast forward 10 years and Vera is settled into her marriage and into her role as a society wife. Until the building hires an artist to paint a mural above the swimming pool. This triggers something in Vera about her life and what she wants. There's a bit of a mystery surrounding the artist which lends itself to intrigue among the women in the building.
Vera is a likable character, even if as a "modern" woman we can't fathom the life she lives. Her social circle is small and narrow, as are her experiences. Everything for Vera is well orchestrated and planned. Her husband, Arthur, is stand-offish and a workaholic. There is no warmth in that marriage, it is more like a business arrangement. It's really not a question of will she or won't she have an affair with Emil, it's more like how long will she try to put space between them?
I wanted to know more about her and Bea. Why Vera never explained herself to Bea or why Bea couldn't understand Vera's awkward position? I also was disappointed we never learned what happened to Cliff. I know he was just a catalyst for Vera to experience life outside her bubble, but I still wanted to know what happened to him.
This was a quick read and a great debut novel. I'm definitely looking forward to what this author will write next.

Google+