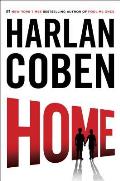 Author: Harlan Coben
Series: None
Publication Date: September 20, 2016
Publisher: Dutton
Pages: 400
Obtained: publisher via NetGalley
Genre: Thriller
Rating: 4.75/5
Bottom Line: So happy that Win and Myron are back!


G

rab,

J

ust get it at the library, or

R

emove from your TBR list? Library
Summary:
A decade ago, kidnappers grabbed two boys from wealthy families and demanded ransom, then went silent. No trace of the boys ever surfaced. For ten years their families have been left with nothing but painful memories and a quiet desperation for the day that has finally, miraculously arrived: Myron Bolitar and his friend Win believe they have located one of the boys, now a teenager. Where has he been for ten years, and what does he know about the day, more than half a life ago, when he was taken? And most critically: What can he tell Myron and Win about the fate of his missing friend? Drawing on his singular talent, Harlan Coben delivers an explosive and deeply moving thriller about friendship, family, and the meaning of home. ~amazon.com
Review:
Home
is one of those books where you think you have it figured out but you really don't until the last page is turned and the last word is read. I forgot how much I love the duo of Myron and Win. They are yin and yang, bread and butter for each other. Win has been gone for a year and in that time a lot has changed but a lot remains the same. When Win calls Myron goes to help. This time Win calls because he thinks he's found one of the boys that has been missing for 10 years and needs his help.
Win of course goes a little too far and gets caught up in a local crime lord's web of evil but it doesn't last for long when he figures out who Win is and just what he is capable of doing. Myron is there to keep Win in check a bit but also to help put the pieces of this seemingly complex puzzle back together.
I loved the puzzle of what happened to the two boys Patrick and Rhys. How it has affected the families and the people around them, even the community to a certain extent. It changes their view on life and they are constantly wondering when their boys will come back or if they will ever come back.
Home
is a book that will have you wondering where Win and Myron have been all your life or maybe just that you've missed them since their last adventure. It will also make you appreciate Mr. Coben's sense of humor and how he works it in at just the right time.

Google+