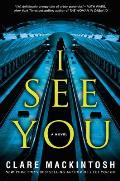 Author: Clare Mackintosh
Series: None
Publication Date: February 21, 2017
Publisher: Berkley
Pages: 384
Obtained: publisher via Netgalley
Genre: Psychological Thriller
Rating: 3.5/5
Bottom Line: Not as thrilling of a cat and mouse game as I had hoped


G

rab,

J

ust get it at the library, or

R

emove from your TBR list? Library
Summary:
Every morning and evening, Zoe Walker takes the same route to the train station, waits at a certain place on the platform, finds her favorite spot in the car, never suspecting that someone is watching her...It all starts with a classified ad. During her commute home one night, while glancing through her local paper, Zoe sees her own face staring back at her; a grainy photo along with a phone number and a listing for a website called FindTheOne.com. Other women begin appearing in the same ad, a different one every day, and Zoe realizes they've become the victims of increasingly violent crimes—including murder. With the help of a determined cop, she uncovers the ad's twisted purpose...A discovery that turns her paranoia into full-blown panic. Zoe is sure that someone close to her has set her up as the next target. And now that man on the train—the one smiling at Zoe from across the car—could be more than just a friendly stranger. He could be someone who has deliberately chosen her and is ready to make his next move. ~amazon.com
Review:
I See You
is a fast-paced novel that will have you wondering how much you might be watched on your commute. Kind of creepy right? That's what's going on with Zoe Walker when she finds her picture in an advertisement for a dating site. Zoe's a divorcee with a live-in boyfriend with 2 grown kids, so being on a dating site isn't really something she's done in the past or currently. It freaks her out but her family dismisses it as just being someone who looks like her. Well, Zoe does a little digging and finds the picture on her Facebook page from a wedding several years back.
Things begin to spin out of control quickly as Zoe starts to see women in the advertisements that are suddenly being attacked or murdered. She starts to fear for her own safety but also wondering if she's going a little crazy. She starts to distrust everyone, even those closest to her. She begins to become a bit unhinged.
As we meet the police officer who attaches herself to the case, Kelly, she starts to piece the puzzle together with her knowledge of the Underground and the insight that Zoe has given her. As she puts herself in the middle of the investigation, she works with the team that will eventually crack the case. Her insight and knowledge becomes invaluable but she also crosses a few lines that get her in trouble.
I enjoyed how as Zoe got more frantic the book's pace did the same. It seems to truly kick it up to another level. The idea that someone can stalk you and know your every move is truly frightening if you sit around and dwell on it because then you won't stop thinking about it. I wasn't surprised at the ending but the reasoning behind it seemed kind of far-fetched but the author definitely laid some crumbs for that to be the resolution.
While
I See You
doesn't pack the same punch as
I Let You Go
, it is still an adrenaline pumping read.

Google+