Sold on a Monday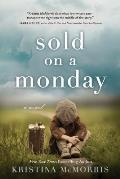 by Kristina McMorris
Author: Kristina McMorris
Series: None
Publication Date: August 28, 2018
Publisher: Sourcebooks Landmark
Pages: 352
Obtained: Great Thoughts,Great Readers Book Salon
Genre: Historical Fiction
Rating: 4.5/5
Bottom Line: Heartbreaking story but with hope


G

rab,

J

ust get it at the library, or

R

emove from your TBR list? Grab
Summary:
2 CHILDREN FOR SALE The sign is a last resort. It sits on a farmhouse porch in 1931, but could be found anywhere in an era of breadlines, bank runs and broken dreams. It could have been written by any mother facing impossible choices. For struggling reporter Ellis Reed, the gut-wrenching scene evokes memories of his family's dark past. He snaps a photograph of the children, not meant for publication. But when it leads to his big break, the consequences are more devastating than he ever imagined. At the paper, Lillian Palmer is haunted by her role in all that happened. She is far too familiar with the heartbreak of children deemed unwanted. As the bonds of motherhood are tested, she and Ellis must decide how much they are willing to risk to mend a fractured family.Inspired by an actual newspaper photograph that stunned the nation, Sold on a Monday is a powerful novel of love, redemption, and the unexpected paths that bring us home. ~amazon.com
Review:
This story begins with a cub reporter, Ellis, taking a picture of 2 children in front of a sign that says CHILDREN FOR SALE. This picture will catapult his career but it also changes the trajectory of 3 lives: a mother, a son and a daughter. Lily is the Editor's secretary but she also has career aspirations of her own but she's also hiding a secret that no one at the newspaper knows about. She's afraid it would change how people view her. She's also the person who put Ellis' photo in front of the editor; so in some ways she's responsible for the change in paths of people's lives as well.
The picture being published and the story that Ellis wrote around it gets him a job in NY but not before he starts to wonder what happened to the kids in the picture. So being the investigative reporter he starts to ask a few questions. Lily also inserts herself into helping Ellis. Ellis and Lily make a formidable team with their inquisitive minds and the fact they won't give up until they have their answers and feel that a wrong is righted. I loved how the mystery unfolded and how even the subplots were connected where they didn't seem like they would be.
The story takes a few turns that I didn't expect with some of the players who were involved and how they ended up being a part of the story. Ellis and Lily were both interesting characters who's past shaped who they were and how they viewed the world. Lily helped guide Ellis to use his integrity to help resolve returning the children to their mother.
Ms. McMorris's writing continues to be insightful, emotional and at times gritty.
Sold on a Sunday
is a story you won't want to miss!

Google+