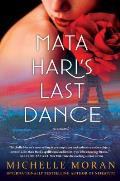 Author: Michelle Moran
Series: None
Publication Date: July 19, 2016
Publisher: Touchtone Books
Pages: 288
Obtained: publisher
Genre: Historical Fiction
Rating: 4.5/5
Bottom Line: A quick and engaging look at a mysterious historical woman


G

rab,

J

ust get it at the library, or

R

emove from your TBR list? Grab!
Summary:
Paris, 1917. The notorious dancer Mata Hari sits in a cold cell awaiting freedom…or death. Alone and despondent, Mata Hari is as confused as the rest of the world about the charges she's been arrested on: treason leading to the deaths of thousands of French soldiers. As Mata Hari waits for her fate to be decided, she relays the story of her life to a reporter who is allowed to visit her in prison. Beginning with her carefree childhood, Mata Hari recounts her father's cruel abandonment of her family as well her calamitous marriage to a military officer. Taken to the island of Java, Mata Hari refuses to be ruled by her abusive husband and instead learns to dance, paving the way to her stardom as Europe's most infamous dancer. From Indian temples and Parisian theatres to German barracks in war-torn Europe, international bestselling author Michelle Moran who "expertly balances fact and fiction" (Associated Press) brings to vibrant life the famed world of Mata Hari: dancer, courtesan, and possibly, spy. ~amazon.com
Review:
Mata Hari's Last Dance
is what I've come to expect from one of my favorite authors. Ms. Moran has taken another female historical figure and made her accessible to her readers. I've always heard the name Mata Hari but never knew much about her or her life; while Ms. Moran's novel isn't a biography or even an extensive look into her life, I felt that I have a much better understanding for the life she had lived and survived.
Mata Hari is exuberant about living life. She wants to make the most out of what she has earned and endured. She isn't ashamed that she dances or entertains for a living. She is able to afford luxurious items and travel to fascinating places because of what she does. She becomes an entertainer who sells out theaters night after night for months on end. She feels but doesn't always think. It's pretty much how she gets herself into the predicament of being tried for espionage.
I devoured this book in 36 hours. It sucks you in and you want to know more about this woman's life. I appreciated how she did control her own life. It wasn't anyone's fault but her own because she promised information to the wrong men and it came back to get her in the end.
I love her relationship with Mr. Clunet. I loved how she didn't want to fall in love with him because she didn't want to hurt him. In the end, she ended up hurting him anyway. She wanted to do what was best for those she cared about but she just didn't really know how. She was in survival mode most of her life and when she didn't have to be anymore, she couldn't completely let go.
Ms. Moran never fails to engage me with her stories and
Mata Hari's Last Dance
is no different but I just really wanted to know more but I have a feeling there was no more to know since her life was shrouded in mystery.

Google+