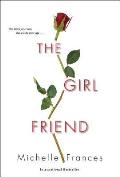 Author: Michelle Frances
Series: None
Publication Date: January 30, 2018
Publisher: Kensington
Pages: 432
Obtained: publisher via Netgalley
Genre: Suspense,Thriller
Rating: 4/5
Bottom Line: Starts off a bit slow but definitely builds up


G

rab,

J

ust get it at the library, or

R

emove from your TBR list? Grab
Summary:
Laura has it all. A successful career, a long marriage to a rich husband, and a twenty-three year-old son, Daniel, who is kind, handsome, and talented. Then Daniel meets Cherry. Cherry is young, beautiful and smart but hasn't led Laura's golden life. And she wants it. When tragedy strikes, a decision is made and a lie is told. A lie so terrible it changes their lives forever…The Girlfriend is a taut and wickedly twisted debut psychological thriller—a novel of subtle sabotage, retaliation, jealousy and fear, which pivots on an unforgivable lie, and examines the mother–son–daughter-in-law relationship in a chilling new light.~amazon.com
Review:
Listen up sons: Your mother always know best even if we go about it in the wrong way. In
The Girlfriend,
Laura was determined to be friendly because it was obvious that her son, Daniel was a bit smitten with her. Yes, she was left with an unsettled feeling after their first meeting, but she cut Cherry some slack figuring that it was just initial nerves of meeting her boyfriend's parents. Given as close as her and Daniel are, she wants to make every effort to welcome Cherry in to the fold but she keeps holding Laura at arms length.
Cherry, on the hand, is all about seizing an opportunity that will help her and Daniel is that opportunity for her from the minute he walks into her realty office. She immediately notices that Daniel and his mom are close, which really won't work for her. She has to be the most important woman in his life. She quickly starts putting plans in motion to drive wedges between them even if they are small at first.
While I will say that there were some things that Laura did that I wholeheartedly didn't agree with, I understood why she did what she did. She needed and wanted to protect her family; although that ended up biting her in the buttocks. I also felt sorry for Laura because she didn't have the strength to fight back when Cherry "attacked" her. For as put together as Laura seemed, she really was falling apart. I knew she wouldn't really fight back because for the better part of her marriage, she let her husband walk all over her.
There were times when I wasn't sure who was off their rocker more, Laura or Cherry. Although in the end it seemed that Cherry really did have some issues that stemmed from her issues with how she grew up.
The Girlfriend took a bit for me to get into just because it's a lot of build up but it definitely pays off in the end. It would definitely be a great movie with the right director and actors. If you are looking for a novel that slowly builds up and lays a lot of crumbs, then this one is for you.

Google+