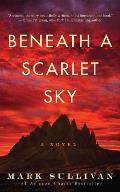 Author: Mark T. Sullivan
Series: None
Publication Date: May 1, 2017
Publisher: Lake Union
Pages: 524
Obtained: Little Bird Publicity
Genre: Historical Fiction, Biography
Rating: 5/5
Bottom Line: A stunning novel about love, loss and living. A must read!


G

rab,

J

ust get it at the library, or

R

emove from your TBR list? Grab!
Summary:
Pino Lella wants nothing to do with the war or the Nazis. He's a normal Italian teenager—obsessed with music, food, and girls—but his days of innocence are numbered. When his family home in Milan is destroyed by Allied bombs, Pino joins an underground railroad helping Jews escape over the Alps, and falls for Anna, a beautiful widow six years his senior. In an attempt to protect him, Pino's parents force him to enlist as a German soldier—a move they think will keep him out of combat. But after Pino is injured, he is recruited at the tender age of eighteen to become the personal driver for Adolf Hitler's left hand in Italy, General Hans Leyers, one of the Third Reich's most mysterious and powerful commanders. Now, with the opportunity to spy for the Allies inside the German High Command, Pino endures the horrors of the war and the Nazi occupation by fighting in secret, his courage bolstered by his love for Anna and for the life he dreams they will one day share. Fans of All the Light We Cannot See, The Nightingale, and Unbroken will enjoy this riveting saga of history, suspense, and love. ~amazon.com
Review:
I really feel that
Beneath a Scarlet Sky
should come with a warning regarding how you will have a serious book hangover when you finish this one. Pino Lella is a typical 17 year old hanging with his friends, trying to find love when things start to take a turn for the worse in the war and Milan gets sucked right into it. In order to keep his family safe, Pino's father sends him to the Italian Alps to help serve with Father Re and to keep him out of harms way.
It is here that he finds his purpose by hiking the mountains and gaining strength. It is here that he helps the Catholic church get Italian Jews out of harms way and into Switzerland. Pino has a way with helping people and keeping them calm even in the scariest moments. It wasn't always the Nazis that you had to worry about but the weather in the mountains. So when he is sent back to Milan he isn't very happy about it. Even more so after he finds out that his Uncle and Father want him to enlist so that he's not drafted. If he enlists, they can help him get a better job. It still doesn't keep him out of harms way and after he's injured in a bombing, he is inadvertently made the driver for General Leyers, who sits on Hitler's counsel. By being his driver this gives Pino the opportunity to be a spy and gain the Allies some advantages. Things never go as planned and Pino often wrestles with what he is doing and how he is helping.
What I absolutely loved about the book was that you felt like you were living Pino's experiences with him. You felt what he felt. You felt the shame and pride. You felt how young and innocent he was when he first went to Father Re and how at the end of the war he had seen things he would never forget. Some things he would spend the rest of his life trying to forget and running away from. You felt the terror of the war and at the same the bliss of first love between Anna and Pino. It is this love that gives him hope in times of despair.
In the end,
Beneath a Scarlet Sky
, is a gorgeous and heart-wretching story about being brave in the face of evil. It's about finding happiness when you think it's been taken from you and remembering that each day is a gift. Pino Lella is an ordinary person, who did extraordinary things when it counted the most and cost him as well. I don't always read the author notes at the end of a novel, but I felt compelled to because of the preface. In some ways I believe Pino's story saved Mark Sullivan's life.

Google+