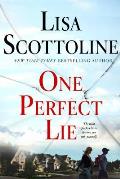 Author: Lisa Scottoline
Series: None
Publication Date: April 11, 2017
Publisher: St. Martin's Press
Pages: 368
Obtained: publisher via Netgalley
Genre: Suspense, Thriller
Rating: 4.75/5
Bottom Line: A quick read that will having you saying "What?" a few dozen times


G

rab,

J

ust get it at the library, or

R

emove from your TBR list? Grab
Summary:
On paper, Chris Brennan looks perfect. He's applying for a job as a high school government teacher, he's ready to step in as an assistant baseball coach, and his references are impeccable. But everything about Chris Brennan is a lie. Susan Sematov is proud of her son Raz, a high school pitcher so athletically talented that he's being recruited for a full-ride scholarship to a Division I college, with a future in major-league baseball. But Raz's father died only a few months ago, leaving her son in a vulnerable place where any new father figure might influence him for good, or evil. Heather Larkin is a struggling single mother who lives for her son Jordan's baseball games. But Jordan is shy, and Heather fears he is being lured down a dark path by one of his teammates, a young man from an affluent family whose fun-loving manner might possibly conceal his violent plans. Mindy Kostis succumbs to the pressure of being a surgeon's wife by filling her days with social events and too many gin and tonics. But she doesn't know that her husband and her son, Evan, are keeping secrets from her – secrets that might destroy all of them. At the center of all of them is Chris Brennan. Why is he there? What does he want? And what is he willing to do to get it? Enthralling and suspenseful, One Perfect Lie is an emotional thriller and a suburban crime story that will have readers riveted up to the shocking end, with killer twists and characters you won't soon forget. ~amazon.com
Review:
One Perfect Lie
is perhaps Lisa Scottoline's best novel today. Is there such a thing a perfect lie? If so, can you live it, breathe it and be it? Is a secret a lie? If so, everyone in this book is living a lie and I'm guessing most of us have a secret(s) we keep.
Chris Brennan isn't who he says he is but we aren't really sure who he is we just know he's telling some big lies that have a major end game in play. He weasels his way into a high school and as an assistant coach for the baseball team all so he can find a young impressionable boy to do his biding for him. He assesses the students and see which one that he can bring to his side. He's got a limited amount of time to do this in because his deadline is less than a week. What is his deadline? What are his plans? As you are reading this, you just know that he is up to a nefarious act.
We also get to know a bit about each of the boys that Chris is targeting and their family. Raz has recently lost his dad to cancel and the family finds itself reeling in more ways than one in dealing with his death. His mother is at a loss on what to do because Neil was the glue that kept their family together.
Jordan has worked hard for his place on the varsity baseball team and his mom, Heather, couldn't be more proud. Will his hard work cost him his friendship with Raz? Heather is also dealing with her own issues since she walked out of her job. What will she do to support them?
Evan Kostis is the golden child. He's the one that has the charisma, the looks and the money. His mom though is hiding the fact that she drinks to hide the fact that her marriage isn't happy. The fact that her husband is never at home. She's not sure what is going on but she's determined to find out.
Ms. Scottoline covers a lot of ground with
One Perfect Lie
but she doesn't overreach, in my opinion. What I came away with though is that family always comes first, especially for us momma bears. If something is going wrong with our kids, we will be there to help them. There are twists and turns that I didn't see coming and caused me to go "whoa".
If you want a great suspense/thriller novel, then you will definitely want to pick up
One Perfect Lie
.

Google+