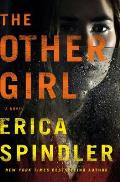 Author: Erica Spindler
Series: None
Publication Date: August 22, 2017
Publisher: St. Martin's Press
Pages: 256
Obtained: publisher via NetGalley
Genre: Suspense, Crime
Rating: 4/5
Bottom Line: A great crime/suspense novel that doesn't rely on the unreliable narrator


G

rab,

J

ust get it at the library, or

R

emove from your TBR list? Library
Summary:
Officer Miranda Rader of the Harmony, Louisiana PD is known for her honesty, integrity, and steady hand in a crisis―but that wasn't always so. Miranda comes from the town of Jasper, a place about the size of a good spit on a hot day, and her side of the tracks was the wrong one. She's worked hard to earn the respect of her coworkers and the community. When Miranda and her partner are called to investigate the murder of one of the town's most beloved college professors, they're unprepared for the brutality of the scene. This murder is unlike any they've ever investigated, and just when Miranda thinks she's seen the worst of it, she finds a piece of evidence that chills her to the core: a faded newspaper clipping about that terrible night fifteen years ago. The night she'd buried, along with her past and the girl she'd been back then. Until now that grave had stayed sealed…except for those times, in the deepest part of the night, when the nightmares came: of a crime no one believed happened and the screams of the girl they believed didn't exist. Then another man turns up dead, this one a retired cop. Not just any cop―the one who took her statement that night. Two murders, two very different men, two killings that on the surface had nothing in common―except Miranda. ~amazon.com
Review:
The Other Girl
is story that spins how our past can come back to haunt us and how it can effect our present lives. We are told the story of a recent murder through Detective Miranda Rader and how she's been tapped to lead the investigation. Miranda is the top detective in the force but when she see the clipping from an article about a crime that happened years ago, she starts to make some stupid mistakes.
Miranda starts to question how the pieces of this murder fit into the traumatic events in her past. Why has she been pulled into this? What is she going to do about it? Before she can learn any more, she's pulled off the case. Which lends itself to even more suspicion? If she's a strong detective, why pull her off?
Ms. Spindler weaves a quick moving suspense novel that will have you quickly turning the pages. You root for Miranda (and her with Jake). You want her to figure out why this is all coming down on her 15 years later. What ties her to the victim? As a woman you want her to stuff it to the old boys network and prove that the victim, while yes was murdered, that maybe he wasn't the person he wanted people to believe.
Fans of a crime/suspense novel won't want to miss this one. I will be checking out some of her other suspense novels.

Google+