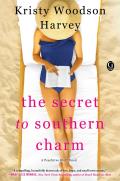 Author: Kristy Woodson Harvey
Series: Peachtree Bluff #2
Publication Date: April 3, 2018
Publisher: Gallery Books
Pages: 400
Obtained: publisher via Netgalley
Genre: Contemporary Fiction, Women's Fiction
Rating: 5/5
Bottom Line: I love this family and these sisters


G

rab,

J

ust get it at the library, or

R

emove from your TBR list? Grab
Summary:
Leaving fans "practically [begging] for a sequel" (Bookpage), critically acclaimed author Kristy Woodson Harvey returns with the second novel in her beloved Peachtree Bluff series, featuring a trio of sisters and their mother who discover a truth that will change not only the way they see themselves, but also how they fit together as a family. After finding out her military husband is missing in action, middle sister Sloane's world crumbles as her worst nightmare comes true. She can barely climb out of bed, much less summon the strength to be the parent her children deserve. Her mother, Ansley, provides a much-needed respite as she puts her personal life on hold to help Sloane and her grandchildren wade through their new grief-stricken lives. But between caring for her own aging mother, her daughters, and her grandchildren, Ansley's private worry is that secrets from her past will come to light. But when Sloane's sisters, Caroline and Emerson, remind Sloane that no matter what, she promised her husband she would carry on for their young sons, Sloane finds the support and courage she needs to chase her biggest dreams—and face her deepest fears. Taking a cue from her middle daughter, Ansley takes her own leap of faith and realizes that, after all this time, she might finally be able to have it all. ~amazon.com
Review:
The Secret to Southern Charm
was like slipping back into a comfy pair of sweatpants and hunkering down. I love these sisters. I love that Ms. Harvey shows complex sister relationships without having them estranged or hating each other. Now don't get me wrong, they do fight but they resolve it. Although, they always have each other's backs. Which is what this second novel focuses on, them rallying around Sloane when her husband, Adam, goes MIA. Why Sloane can't get herself out of bed, Caroline and Emerson plus their mom, Ansley, take over to take care of her two small boys.
Emerson and Caroline have their own things going as well. Caroline is still trying to decide if she should forgive her husband, James for cheating on her while she was pregnant. Emerson is still deciding if she wants to pursue acting or pursue a relationship with Mark. Not to mention Ansley dealing with her feelings for James and the fact that she pushed him off . It really doesn't help when he moves next door.
A lot of this book revolves around the importance of family, faith and love. I think it is always good to be reminded that these things are what really makes us who we are. They never doubt their love for each other even if they sometimes question their decisions.
I love these women in this series. They are strong and yet vulnerable. They have issues that are real. You want to be their friends and sit on the porch of the house in Peachtree Bluff and tell stories.
If you haven't read Ms. Harvey then you should. Ms. Harvey can hurry up and publish the next one in the series.

Google+