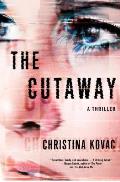 Author: Christina Kovac
Series: None
Publication Date: March 21, 2017
Publisher: 37 Ink/Atria
Pages: 320
Obtained: publisher
Genre: Thriller
Rating: 4.5/5
Bottom Line: A puzzle that is worth putting together


G

rab,

J

ust get it at the library, or

R

emove from your TBR list? Grab
Summary:
When brilliant TV news producer Virginia Knightly receives a disturbing "MISSING" notice on her desk related to the disappearance of a beautiful young attorney, she can't seem to shake the image from her head. Despite skepticism from her colleagues, Knightly suspects this ambitious young lawyer may be at the heart of something far more sinister, especially since she was last seen leaving an upscale restaurant after a domestic dispute. Yet, as the only woman of power at her station, Knightly quickly finds herself investigating on her own. Risking her career, her life, and perhaps even her own sanity, Knightly dives deep into the dark underbelly of Washington, DC business and politics in an investigation that will drag her mercilessly through the inextricable webs of corruption that bind the press, the police, and politics in our nation's capital. ~amazon.com
Review:
Cutaway
is a read that lets the reader into what it takes to put together the evening news. As a person who wanted to get in the news business years ago, I found this story to be extremely fascinating and a new lens on the thriller genre.Virginia is putting together the evening news when she gets a notice that a young woman has gone missing from Georgetown. The thing is that people don't go missing from Georgetown. As Virginia starts to get her nose into the story she starts to dig up information that leads her down a path of politics and greed.
There are many twists and turns during the novel. I felt like every time I had a good grasp on the culprit, I was steered in another direction, which to me is what a good thriller writer does. There are a couple subplots going on in the book but I felt that the enhanced the main plot. Virginia is an easy character to root for and hope that she cracks her investigation. She's tenacious and yet honest; she isn't ruthless which makes it easy for people to trust her. Virginia herself doesn't trust many people and she has her own reasons for her walls.
All the characters are well written and D.C. makes for an interesting background. Never mind the pulse of the city with politics both overtly and covertly. It seems that Ms. Kovac's uses her knowledge of both the news business and politics in her first novel.
I was fascinated by how much goes into pulling an investigative story together just to get the bylines and the leads. How they write the scripts for the evening news and pull the full story together. I would love for her to write another book.
If you are looking for a great thriller with a different angel, then you will definitely want to pick up
Cutaway.

Google+