This is the first time I'm doing trying this format out and I'm hoping it works out well for the future.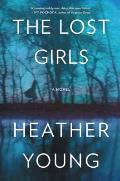 Author: Heather Young
Series: None
Publication Date: July 26, 2016
Publisher: William Morrow
Pages: 352
Obtained: publisher
Genre: Mystery
Rating: 4.75/5
Bottom Line: A taut story about how family history can affect the present without even knowing it


G

rab,

J

ust get it at the library, or

R

emove from your TBR list? Grab!
Mini Review:
The Lost Girls
is a striking novel about how unknown family history can still shape the present. Justine finds herself stuck in a rut and in a relationship that perhaps isn't awful but it's not really good either. So when she gets the call that her great-aunt has died and left the house on the lake to her, she packs her stuff up, grabs her girls and leaves for a new life. Of course, we all know it's not that easy and your past finds a way to get a hold of you. We also learn the story, through Lucy's eyes, of how 6 year old Emily went missing from the house years ago. The pages turn fast and you won't believe the ending. I will caution you, Maurie can be a bit much to handle some times. I loved how the story was told in different time periods and how the title can mean a few different things.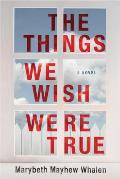 Author: Marybeth Mayhew Whalen
Series: None
Publication Date: September 1, 2016
Publisher: Lake Union
Pages: 288
Obtained: publisher
Genre: Contemporary Fiction
Rating: 3.75/5
Bottom Line: Everyone keeps secrets, even from ourselves


G

rab,

J

ust get it at the library, or

R

emove from your TBR list? Library
Mini Review:
The Things We Wish Were True
is a novel about how we hide things from those we love the most, including ourselves. Told from varying points of view and stories that eventually intersect we met the community of Sycamore Glen. Sure everything looks ideal if you are driving by but we all know looks are deceiving. Perhaps the one thing I took away from this novel is that while it is important to forgive others in your life, it is truly important to forgive yourself for your mistakes. This is a good novel for remembering we are all human.

Google+