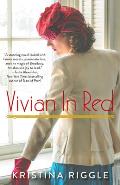 Author: Kristina Riggle
Series: None
Publication Date: September 13, 2016
Publisher: Polis Books
Pages: 352
Obtained: author
Genre: Contemporary Fiction, Historical Fiction
Rating: 4.75/5
Bottom Line: A wonderful look at the early days of Broadway and how our past can sneak up on us at anytime


G

rab,

J

ust get it at the library, or

R

emove from your TBR list? Grab!
Summary:
Famed Broadway producer Milo Short may be eighty-eight but that doesn't stop him from going to the office every day. So when he steps out of his Upper West Side brownstone on one exceptionally hot morning, he's not expecting to see the impossible: a woman from his life sixty years ago, cherry red lips, bright red hat, winking at him on a New York sidewalk, looking just as beautiful as she did back in 1934. The sight causes him to suffer a stroke. And when he comes to, the renowned lyricist discovers he has lost the ability to communicate. Milo believes he must unravel his complicated history with Vivian Adair in order to win back his words. But he needs help—in the form of his granddaughter Eleanor— failed journalist and family misfit. Tapped to write her grandfather's definitive biography, Eleanor must dig into Milo's colorful past to discover the real story behind Milo's greatest song Love Me, I Guess, and the mysterious woman who inspired an amazing life. A sweeping love story, family mystery and historical drama set eighty years apart, Vivian in Red will swell your heart like a favorite song while illuminating Broadway like you've never seen before.
~
amazon.com
Review:
Vivian in Red
is a fantastic novel about how our personal history and those things we regret will come up, rear their head at any time. Milo Short has that regret and seeing a vision of her sends him into having a stroke. After his stroke, the physical abilities come back easily but he's still not speaking and no one is sure exactly why. Medically speaking he should be able to talk but something is blocking him. Enter his granddaughter, Eleanor, who has a mission from the family to research Milo's beginnings and write a biography about him. Never-mind that Milo didn't want one written.
Eleanor needs the job and well who can write it better than a family member, plus she's pretty much pressured into it by the rest of her cousins.
It is clear that Eleanor is the "black sheep" of the family but it is also quite evident that she adores her grandfather. It is also evident that she's a little lost in both love and work. She can't quite find what she wants to do with her life and if someone has to convince her to love him, maybe he's not the right one. Of course when your do-good cousins interfere it's hard to figure out your own feelings. She starts digging into her grandfather's beginnings on Broadway when one name jumps out to her...Vivian Adair. At the same time, Milo keeps seeing apparitions of Vivian in his mind and in his room. She has something to be said and now is her time to have it said.
I love the way that Ms. Riggle takes you down one path and makes you think something and then all the sudden things become much clearer as the story goes on. In Vivian she highlights mental health issues for women back in the 30s and how things were swept under the rug. How people knew something was "off" about her but didn't know how to handle. Even kind, Milo Short doesn't quite know what to make of Vivian but he tries to help her anyway not knowing that he might be doing more harm.
I loved the setting around the heyday of Broadway and how Milo got his start and became successful. I loved the glitz and glamour but also the hard work that is portrayed throughout the novel. Work on Broadway was demanding and tiring. You were only as good as your last lyric or last hit.
I would love to see Ms. Riggle write another book set in the same time period in Broadway with a different perspective. From her writing, I could tell that she has a passion for this time period and the setting.
If you love family mysteries and historical fiction then you should definitely pick up
Vivian in Red
. Also, I could pretty much stare at the cover all day. It is breathtaking.

Google+