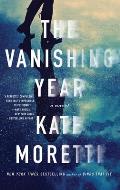 Author: Kate Moretti
Series: None
Publication Date: September 27, 2016
Publisher: Atria Books
Pages: 304
Obtained: publisher via Edleweiss
Genre: Psychological Thriller
Rating: 5/5
Bottom Line: Thrilling


G

rab,

J

ust get it at the library, or

R

emove from your TBR list? Grab!
Summary:
Zoe Whittaker is living a charmed life. She is the beautiful young wife to handsome, charming Wall Street tycoon Henry Whittaker. She is a member of Manhattan's social elite. She is on the board of one of the city's most prestigious philanthropic organizations. She has a perfect Tribeca penthouse in the city and a gorgeous lake house in the country. The finest wine, the most up-to-date fashion, and the most luxurious vacations are all at her fingertips. What no one knows is that five years ago, Zoe's life was in danger. Back then, Zoe wasn't Zoe at all. Now her secrets are coming back to haunt her. As the past and present collide, Zoe must decide who she can trust before she—whoever she is—vanishes completely. ~amazon.com
Review:
The Vanishing Year
is a book that will keep you guessing until the very end. Zoe seems to have it all until she feels that her past is catching up to her. Slowly, the story of her past unravels. As a reader you want to like Zoe and feel for her but you aren't quite sure if you can trust her. She seems to keep everyone, even her husband at arms length. She's a bit obsessed with finding her birth mother and that seems to be driving a wedge between her and Henry. Henry wants to be the only person to reside in Zoe's heart and mind.
Almost immediately you know something is a little off with Henry. He seems a little too perfect and a little too controlling. (Reminded me of the husband in Sleeping with the Enemy movie with Julia Roberts). He did seem to really love Zoe though. They live quite the charmed life until Zoe starts to dig a little deeper. Is their charmed life, really that way or is Henry hiding something? I mean she's hiding something from him, why couldn't he be hiding something from her?
As Zoe starts to dig in to her past and her origins, things start to come together or fall apart depending on your view, very quickly. It is here where Ms. Moretti is at her best because you can't stop turning the pages because you are dying to know how the pieces of the puzzle fit together since it's not really evident. There are definitely a couple of mic drop moments which were awesome!
I know that Ms. Moretti has a couple other books out and I will be seeking them out plus anxiously awaiting her next novel as well!
The Vanishing Year
will be the talk of the book world when it is released. It is one of those books that you will find yourself recommending to friends! Do yourself a favor and grab it.

Google+