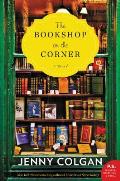 Author: Jenny Colgan
Series: None
Publication Date: September 20, 2016
Publisher: William Morrow
Pages: 368
Obtained: publisher via
Genre: Contemporary Fiction, Contemporary Romance
Rating: 3.75/5
Bottom Line: A light-hearted read that I read at the perfect time


G

rab,

J

ust get it at the library, or

R

emove from your TBR list? Library
Summary:
Nina Redmond is a literary matchmaker. Pairing a reader with that perfect book is her passion… and also her job. Or at least it was. Until yesterday, she was a librarian in the hectic city. But now the job she loved is no more. Determined to make a new life for herself, Nina moves to a sleepy village many miles away. There she buys a van and transforms it into a bookmobile—a mobile bookshop that she drives from neighborhood to neighborhood, changing one life after another with the power of storytelling. From helping her grumpy landlord deliver a lamb, to sharing picnics with a charming train conductor who serenades her with poetry, Nina discovers there's plenty of adventure, magic, and soul in a place that's beginning to feel like home… a place where she just might be able to write her own happy ending. ~amazon.com
Review:
Bookshop on the Corner
is a cute book about following your dream and finding your true home. As a reader you can't help but like Nina. She loves books more than people and loves to pair people with books. So when her job at a library comes to an end, Nina can't help but think owning her own shop might be the perfect thing for her but have it on wheels instead of brick and mortar. The only thing is the van she wants and can afford is up in Scotland.
You just know that Nina is going to end up in this sleepy town because she is drawn to it and other obstacles are in her way down in England. She begins to fall in love with the people of this town as they begin to accept her and support her mobile bookstore. Before long she is helping out a young girl and her brother get their life sorted out.
As far as her love life goes, you can see the writing on the wall but it's still fun to follow Nina as she tries to figure it out and come to grips with it herself. There are a great many fun characters in this book with one being her former roomate and friend, Surinder. Surinder knows how to live life instead of reading about it in books. I think it is this part that Nina begins to understand and appreciate as well.
You can tell that Ms. Colgan has a real love for books and people who read them. If you are looking for a cute read that is fun, then look no further than
Bookshop on the Corner.

Google+