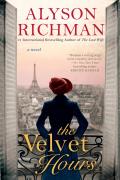 Author: Alyson Richman
Series: None
Publication Date: September 6, 2016
Publisher: Berkley
Pages: 384
Obtained: publisher via NetGalley
Genre: Historical Fiction
Rating: 4/5
Bottom Line: Ripped from the headlines history makes for an intriguing novel


G

rab,

J

ust get it at the library, or

R

emove from your TBR list? Grab!
Summary:
As Paris teeters on the edge of the German occupation, a young French woman closes the door to her late grandmother's treasure-filled apartment, unsure if she'll ever return. An elusive courtesan, Marthe de Florian cultivated a life of art and beauty, casting out all recollections of her impoverished childhood in the dark alleys of Montmartre. With Europe on the brink of war, she shares her story with her granddaughter Solange Beaugiron, using her prized possessions to reveal her innermost secrets. Most striking of all are a beautiful string of pearls and a magnificent portrait of Marthe painted by the Italian artist Giovanni Boldini. As Marthe's tale unfolds, like velvet itself, stitched with its own shadow and light, it helps to guide Solange on her own path. Inspired by the true account of an abandoned Parisian apartment, Alyson Richman brings to life Solange, the young woman forced to leave her fabled grandmother's legacy behind to save all that she loved. ~amazon.com
Review:
The Velvet Hours
is a novel that is rich in setting and description. It makes you want to discover and live in a Paris apartment that is in a time capsule. It is also about the story of a woman who made the most of her lot in life and appreciated art.
Marthe de Florian is a famed courtesan who has pretty much holed herself away for years in her very sheik Paris apartment. She's not agoraphobic but just prefers the comfort her possessions give her. That is until her granddaughter, Solange, starts to visit. It is to Solange that she starts to share her history. It is within her grandmother's history, that Solange starts to feel that she can carve her own way in the world. Her grandmother's strength is what gives her the freedom to fall in love and take chances.
What I liked about Marthe's story is that even though she was a "kept" woman, she used it to her advantage. She collected art and knowledge that served her well throughout her life She knew she was loved and actually had more freedom than some wives during that time period. She had a gift for seeking out those things that were beautiful but that meant something to her as well. Each piece in her various collections represents a certain time in her life.
As a reader, it was wonderful to observe Solange coming into her own. While her father didn't hold her back, by exposing her to her grandmother, she was able to imagine a life all her own. Her grandmother's stories allowed her to feed her creative side. It also gave her more freedom than being in her father's shop to explore and meet new people.
If you are a fan of historical fiction, then you will enjoy this book.
The Velvet Hours
is my first Alyson Richman novel but it won't be my last.

Google+