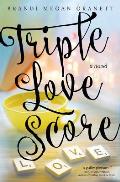 Author: Brandi Megan Granett
Series: None
Publication Date: September 1, 2016
Publisher: Wyatt-MacKenzie Publishing
Pages: 455
Obtained: publicist
Genre: Romance
Rating: 4/5
Bottom Line: Clever use of Scrabble and fun romantic story


G

rab,

J

ust get it at the library, or

R

emove from your TBR list? Grab!
Summary:
A poetry professor stumbles into fame and fortune as an anonymous online Scrabble(r) poet. Miranda lives a quiet life among books and letters as a poetry professor in a small upstate town. When two snap decisions turn up the volume on her life, she must decide whether or not her best laid plans actually lead to where her heart wants to go. ~amazon.com
Review:
Triple Love Score
is a clever take on Scrabble. Miranda is down and out in her love life when she meets the handsome and roguish, Ronan. Who wouldn't be cast under his Irish accent spell and the attention that he gives her since Scott left her high and dry 6 years prior. For her it's casual and something that can just be for fun, but as a reader you have to wonder what Ronan's intentions truly are. Of course, just when she's getting her life back in order and maybe moving on from Scott, guess who drops right back into her life?
Of course things aren't as easy as you want them to be with Miranda and Scott. You want him to just tell her what the heck happened to him six years ago. He's being very coy and standoffish with her when she approaches the subject with him. He does help her to reach out to someone who can help her with her Instagram account to market it and monetize it.
I adored Miranda and her outlook on life. Does she have a couple missteps along the way but who doesn't? She has been in love with Scott since they were young kids growing up together. I loved the way she used Scrabble to work out her feelings on whatever was going on in her life. I loved how she stood up for herself against those that were trying to bring her down. I thought her relationship with her step-mother was more of a friendship because she never tried to replace her mother. They had mutual respect for each other and cared deeply for one another.
This was a fun, quick read that reminds us that the ties that bind us aren't always family and that sometimes you have to let go to hang on.
I definitely look forward to seeing what else Ms. Granett writes in the future.

Google+