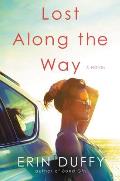 Author: Erin Duffy
Series: None
Publication Date: July 12, 2016
Publisher: William Morrow
Pages: 336
Obtained: publisher via NetGalley
Genre: Contemporary Fiction,Women's Fiction
Rating: 4/5
Bottom Line: Sometimes you need your old friends to remind you of who you used to be


G

rab,

J

ust get it at the library, or

R

emove from your TBR list? Grab!
Summary:
All through childhood and adolescence, Jane, Cara, and Meg swore their friendship would stand the test of time. Nothing would come between them, they pledged. But once they hit their twenties, life got more complicated and the BFFs began to grow distant. When Jane eloped with her slick, wealthy new boyfriend and didn't invite her oldest friends to the ceremony, the small cracks and fissures in their once rock-solid relationship became a chasm that tore them apart.
Ten years later, when her husband is arrested and publicly shamed for defrauding his clients, Jane realizes her life among the one percent was a sham. Penniless and desperate, deserted by the high-society crowd who turn their surgically perfected noses up at her, she comes crawling back to her childhood friends seeking forgiveness. But Cara and Meg have troubles of their own. One of them is trapped in a bad marriage with an abusive husband, while the other can't have the one thing she desperately wants: a baby. Yet as much as they'd love to see Jane get her long overdue comeuppance, Cara and Meg won't abandon their old friend in her time of need. The story of three friends who find themselves on a laugh-out-loud life adventure,
Lost Along the Way
illuminates the moments that make us, the betrayals that break us, and the power of love that helps us forgive even the most painful hurts. ~amazon.com
Review:
Lost Along the Way
is about the power of female friendships and how sometimes no matter how much time passes you can still come back together. Jane, Meg and Cara have been estranged for some time because of things said and things unsaid but they are the only 2 people Jane feels she can count on when things come crashing down on her. Of course it's a bit of a bumpy road because well Jane doesn't always think before putting things in motion.
Cara's life is out of control. She doesn't even know who she is anymore. Her husband is a tool to the nth degree and she has no out. Nothing she does is good enough and up to his standards. She looks the part but is anything but up to it. How did she become this person? How can she go back to the spunky, smart and athletic person she used to be?
Meg is a shell of the person she used to be. She's always wanted to be a mom but it seems like it's not in the cards for her and her husband. She closes herself off to every one. Even going as far as locking herself away in their beach town.
At first it doesn't look like Jane's plan of getting them together again, is going to really work. Since they all haven't been on speaking terms, Jane has no clue that Meg and Cara had their own falling out and there's quite some bad blood there as well.
I liked that they had the guts to call each other other on their crap but didn't take it too far. At some point they had to decide to put the past in the past and move on. I liked how they found strength in each other and built off of that to find strength in themselves.
If you are looking for a great novel on how women can empower each other through friendship, then look no further than
Lost Along the Way
.

Google+