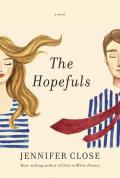 Author: Jennifer Close
Series: None
Publication Date: July 19, 2016
Publisher: Knopf
Pages: 320
Obtained: publisher via Edelweiss
Genre: Contemporary Fiction
Rating: 3.5/5
Bottom Line: A fine example of why friends shouldn't work for friends


G

rab,

J

ust get it at the library, or

R

emove from your TBR list? Grab!
Summary:
A brilliantly funny novel about ambition and marriage from the best-selling author of
Girls in White Dresses, The Hopefuls
tells the story of a young wife who follows her husband and his political dreams to Washington, DC, a city of idealism, gossip, and complicated friendships among the young aspiring elite. When Beth arrives in DC, she hates everything about it: the confusing traffic circles, the ubiquitous Ann Taylor suits, the humidity that descends each summer. At dinner parties, guests compare their security clearance levels. They leave their BlackBerrys on the table. They speak in acronyms. And once they realize Beth doesn't work in politics, they smile blandly and turn away. Soon Beth and her husband, Matt, meet a charismatic White House staffer named Jimmy, and his wife, Ashleigh, and the four become inseparable, coordinating brunches, birthdays, and long weekends away. But as Jimmy's star rises higher and higher, the couples' friendship—and Beth's relationship with Matt—is threatened by jealousy, competition, and rumors. A glorious send-up of young DC and a blazingly honest portrait of a marriage, this is the finest work yet by one of our most beloved writers. ~amazon.com
Review:
The Hopefuls
is definitely a novel for those interested in some knowledge about the Obama White House and the young staffers who filled it. Now I don't know how much is based on fact and how much is fiction, but it is interesting and kind of scary at the same time.
Beth loved living in NYC but her husband Matt has a wonderful opportunity to work in Obama's White House as part of the legal counsel team. So she sucks it up and moves to D.C. She's definitely not making the best of it and has a hard time finding her groove. She feels like everyone always has an agenda (which they do) and she's not in politics so they treat her as an outsider. Matt seems happy and loves working in the White House. He thinks it'll be great experience for when he eventually runs for office.
Things finally start to fall in place when Beth and Matt click with another couple, Jimmy and Ashleigh Dillon. They start hanging out all the time both as a couple plus Ash and Beth without the guys. They are inseparable so much that Beth's friend Colleen makes jokes about them being swingers.
Then Jimmy gets asked to run for Railroad Commission in Texas and asks Matt to run his campaign. This involved Beth and Matt moving to Houston and living with the Dillon's until at least the primary is over. It doesn't seem so bad at first because things are going well and they are all getting along rather well but of course things start to crack. You start to see behind the curtain and see how people really act. It also shows the cracks in your own marriage. Is this the hurdle that Beth and Matt can't over come? Why have things changed so drastically in a short period of time? Can they fix it?
As much as this is a novel about D.C., it is more about the hard times of marriage and what it takes to make one work. I never felt that Beth and Matt were on the same page. I always felt that she was just following him along because she never really knew what she wanted. She wasn't really even sure she wanted to be married to a potential politician. I feel like that's a huge obstacle to overcome in a marriage. I'm not sure if Matt was right when he told her she didn't support him because I think she did but he wasn't understanding that it would have a huge impact on her life as well.
I'm not sure if any of the characters here were particularly likable. It's not like they were horrible but each were so flawed it made them hard to identify with. I also wanted Jimmy to not have the typical politician flaws because that was too easy to write. Even Ash seemed like a caricature at times.
If you like stories that are entwined with politics then you will definitely enjoy Ms. Close's
The Hopefuls
.

Google+