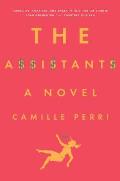 Author: Camille Perri
Series: None
Publication Date: May 3, 2016
Publisher: Putnam Books
Pages: 288
Obtained: borrowed via a friend
Genre: Contemporary Fiction
Rating: 5/5
Bottom Line: A laugh out loud novel about taking things into your own hands


G

rab,

J

ust get it at the library, or

R

emove from your TBR list? Grab!
Summary:
Tina Fontana is the hapless but brazen thirty-year-old executive assistant to Robert Barlow, the all-powerful and commanding CEO of Titan Corp., a multinational media conglomerate. She's excellent at her job and beloved by her famous boss—but after six years of making his reservations for restaurants she'd never get into on her own and pouring his drinks from bottles that cost more than her rent, she's bored, broke, and just a bit over it all. When a technical error with Robert's travel-and-expenses report presents Tina with the opportunity to pay off the entire balance of her student loan debt with what would essentially be pocket change for her boss, she struggles with the decision: She's always played by the rules. But it's such a relatively small amount of money for the Titan Corporation—and for her it would be a life-changer . . . The Assistants speaks directly to a new generation of women who feel stuck and unable to get ahead playing by the rules. It will appeal to all of those who have ever asked themselves, "How is it that after all these years, we are still assistants?" ~goodreads.com
Review:
The Assistants
is the not to miss novel of 2016. You will seriously spend your time reading this book either laughing out loud or snickering. That's not to say it's not without merit. What would you do if your career isn't exactly what you thought it was and to top it off that college education is drowning you? Would you take an opportunity that pretty much fell in your lap? Would you know when to stop? All of these happen to Tina Fontana.
I really don't want to say more about the plot because I'll blow it and you need to read it yourself. I will say that I loved the characters. They were a rag tag bunch that ended up being in cohorts but in the end you could tell that they had solid friendships; especially Emily and Tina. Tina's always pretty much gone with the flow, she's never had her own voice in her own life. This situation pretty much makes her take charge of her life and frankly the life of others.
If you are looking for a quick, funny, astute summer then you can't and won't want to miss
The Assistants
.

Google+