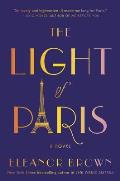 Author: Eleanor Brown
Series: None
Publication Date: July 12, 2016
Publisher: Putnam Books
Pages: 455
Obtained: Amazon Vine
Genre: Historical Fiction/Contemporary Fiction
Rating: 4/5
Bottom Line: How finding your place in your family can occur when you examine your family's past


G

rab,

J

ust get it at the library, or

R

emove from your TBR list? Grab!
Summary:
Madeleine is trapped—by her family's expectations, by her controlling husband, and by her own fears—in an unhappy marriage and a life she never wanted. From the outside, it looks like she has everything, but on the inside, she fears she has nothing that matters. In Madeleine's memories, her grandmother Margie is the kind of woman she should have been—elegant, reserved, perfect. But when Madeleine finds a diary detailing Margie's bold, romantic trip to Jazz Age Paris, she meets the grandmother she never knew: a dreamer who defied her strict, staid family and spent an exhilarating summer writing in cafés, living on her own, and falling for a charismatic artist. Despite her unhappiness, when Madeleine's marriage is threatened, she panics, escaping to her hometown and staying with her critical, disapproving mother. In that unlikely place, shaken by the revelation of a long-hidden family secret and inspired by her grandmother's bravery, Madeleine creates her own Parisian summer—reconnecting to her love of painting, cultivating a vibrant circle of creative friends, and finding a kindred spirit in a down-to-earth chef who reminds her to feed both her body and her heart. Margie and Madeleine's stories intertwine to explore the joys and risks of living life on our own terms, of defying the rules that hold us back from our dreams, and of becoming the people we are meant to be.
Review:
The Light of Paris
is a story about how feeling like the odd man out in your own family can lead to greater revelations. I loved how Madeleine who always felt that she didn't belong in her family, found out in the end that perhaps her dreams follow her maternal grandmother more than she knew. Madeleine had always struggled to find her place in the world and so she did what her parents wanted her to do, settled down. So she acquiesces and marries an upstanding but cold man. Marital issues cause her to flee back to Magnolia where she finds herself wanting all the things that she dismissed years ago.
Madeleine has always done as she was told even if it made her feel odd and out of place. She even married a man she didn't truly love because she felt that if she didn't she was letting her parents down. He's an extremely cold fish and expects to be the perfect trophy wife but never compliments her. It's always about what she's doing wrong, which is all she's ever known. Madeleine suffers from a lack of self-esteem which hinders her in every area of her life. She's never stood up for herself. As she returns "home" she starts to find the courage to do just that and live the life she's always wanted, very much due to reading her grandmother's journals and seeing her bravery.
Margie is lucky because for a while she gets to be who she wants to be far away from her parents critical eye. Instead of shirking back to her parents when things go south in Paris, she takes it as an opportunity to live her life. I loved seeing Paris from Margie's fresh eyes and how she was able to find herself there. Unfortunately for her and that time period, there wasn't much for her to come back to but marriage and obligation.
These 2 women were from very different time periods but because of their family lineage and tradition were caught up with the same obligations. One never broke free and one tries her damnedest to break free of those constraints. All women feel constrained at one time or another but it's how we respond and break free of them that make us brave and strong.
Ms. Brown always writes so vividly and I loved experience Paris though her words. Anytime I can be transported to another era and city, it's been time well spent.

Google+