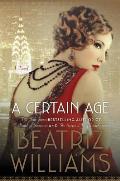 Author: Beatriz Williams
Series: None
Publication Date: June 28,2016
Publisher: William Morrow Books
Pages: 336
Obtained: publisher
Genre: Historical Fiction
Rating: 4/5
Bottom Line: A love triangle with a couple scandals thrown in for good measure


G

rab,

J

ust get it at the library, or

R

emove from your TBR list? Grab!
Summary:
As the freedom of the Jazz Age transforms New York City, the iridescent Mrs. Theresa Marshall of Fifth Avenue and Southampton, Long Island, has done the unthinkable: she's fallen in love with her young paramour, Captain Octavian Rofrano, a handsome aviator and hero of the Great War. An intense and deeply honorable man, Octavian is devoted to the beautiful socialite of a certain age and wants to marry her. While times are changing and she does adore the Boy, divorce for a woman of Theresa's wealth and social standing is out of the question, and there is no need; she has an understanding with Sylvo, her generous and well-respected philanderer husband. But their relationship subtly shifts when her bachelor brother, Ox, decides to tie the knot with the sweet younger daughter of a newly wealthy inventor. Engaging a longstanding family tradition, Theresa enlists the Boy to act as her brother's cavalier, presenting the family's diamond rose ring to Ox's intended, Miss Sophie Fortescue—and to check into the background of the little-known Fortescue family. When Octavian meets Sophie, he falls under the spell of the pretty ingénue, even as he uncovers a shocking family secret. As the love triangle of Theresa, Octavian, and Sophie progresses, it transforms into a saga of divided loyalties, dangerous revelations, and surprising twists that will lead to a shocking transgression . . . and eventually force Theresa to make a bittersweet choice. Full of the glamour, wit and delicious twists that are the hallmarks of Beatriz Williams' fiction and alternating between Sophie's spirited voice and Theresa's vibrant timbre, A Certain Age is a beguiling reinterpretation of Richard Strauss's comic opera Der Rosenkavalier, set against the sweeping decadence of Gatsby's New York. ~amazon.com
R
eview:
A Certain Age
is a novel set against the backdrop of a changing NYC and the changing of society. For some, that transition is harder than for others. Theresa Marshall figures that if her husband can have a mistress for all of these years, then she too can have an affair. Sophie Fortescue has grown up in a bubble. So for her to rebel a bit by sneaking out with the fabulous Julie Schuyler is a bit out of the ordinary for her. If she hadn't, then she wouldn't have met Jay Oscher to who she will be betrothed too.
It isn't too hard to see how the story will go once a few things happen, specifically once Sophie and Octavian meet. You see how it will collide but you aren't sure who will get damaged in the wreckage.
I also liked that the mystery/scandal was written in the novel as a side plot. I wanted to know what the trial of the time was and who it involved. I had theories but none of them even came close to what Ms. Williams wrote into the novel.
Theresa is used to getting what she wants and why would she be? She's a woman of substance, good pedigree and money. Things at this time came easily to her, including the Boy. I never felt that she was using him but I did wonder if she knew what true love felt like. I think it a lot of ways both Theresa and Octavian saved each other. Each of them allowed the other one to grow and become a better person.
I wanted everyone in the book to be happy and to be able to not have any regrets and I do believe that they all got that in the end. While this isn't my favorite novel of hers, I still thoroughly enjoyed it. Plus whenever a Schuyler makes an appearance you know it's going to be a good time.
Can we just discuss this cover for a moment? Even if I hadn't ever read Ms. Williams, I certainly would have picked this up off a shelf to read what it was about and prompt bought it. In person, it is simply stunning.
If you are all about NYC, the 1920s, scandal and love affairs, then you won't want to miss
A Certain Age
.

Google+