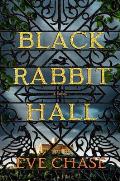 Author: Eve Chase
Series: None
Publication Date: February 9, 2016
Publisher: Putnam Books
Pages: 384
Obtained: from a friend
Genre: Contemporary Fiction, Historical Fiction
Rating: 4.5/5
Bottom Line: A well woven story with a house that needs to tell a story


G

rab,

J

ust get it at the library, or

R

emove from your TBR list? Grab!
Summary:
Amber Alton knows that the hours pass differently at Black Rabbit Hall, her London family's country estate, where no two clocks read the same. Summers there are perfect, timeless. Not much ever happens. Until, of course, it does. More than three decades later, Lorna is determined to be married within the grand, ivy-covered walls of Pencraw Hall, known as Black Rabbit Hall among the locals. But as she's drawn deeper into the overgrown grounds, half-buried memories of her mother begin to surface and Lorna soon finds herself ensnared within the manor's labyrinthine history, overcome with an insatiable need for answers about her own past and that of the once-happy family whose memory still haunts the estate. Stunning and atmospheric, this debut novel is a thrilling spiral into the hearts of two women separated by decades but inescapably linked by the dark and tangled secrets of Black Rabbit Hall. ~amazon.com
Review:
Black Rabbit Hall
is a novel that take a bit to find it's legs. It is a slow moving story that sucks you slowly in, until it has its claws in you. Black Rabbit Hall has a story to tell you as a reader because it is very much the character who reveals all the secrets of the family. The Alton's are a happy family who takes respite at the Cornwall family house. It is where they go to relax and run around being carefree. Nancy Alton is the matriarch of the family but she isn't your typical British mother, she allows her kids to be who they are and to experience life.
We meet Lorna who is trying to find Pencraw Hall so she can have her wedding there but it's not so easy to find and her fiance, Jon, is about to call off the search when they happen upon it. Lorna is drawn to the house immediately. She feels an instant connection to it but really can't explain why to anyone.
As a reader what you want to know is how is Lorna connected to Pencraw Hall? Is it just the history of it? Is it just that she loves old houses with history? What is with the mysterious Mrs. Alton? What is her tie to the house?
How do Amber and her siblings grow up and survive their devastating loss? Will their family ever be the same?
It wasn't that you couldn't see where the story was going but you really just wanted the pieces of all the puzzles to fall into place. I enjoyed the journey that Ms. Chase took us on and it was definitely reminiscent of a Kate Morton novel.

Google+