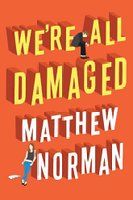 Author: Matthew Norman
Series: None
Publication Date: June 1, 2016
Publisher: Little A
Pages: 282
Obtained: publisher via NetGalley
Genre: Contemporary Fiction
Rating: 4.75/5
Bottom Line: Poignant and humorous look at growing up and moving on at any age


G

rab,

J

ust get it at the library, or

R

emove from your TBR list? Grab!
Summary:
Andy Carter was happy. He had a solid job. He ran 5Ks for charity. He was living a nice, safe Midwestern existence. And then his wife left him for a handsome paramedic down the street.
We're All Damaged begins after Andy has lost his job, ruined his best friend's wedding, and moved to New York City, where he lives in a tiny apartment with an angry cat named Jeter that isn't technically his. But before long he needs to go back to Omaha to say good-bye to his dying grandfather.
Back home, Andy is confronted with his past, which includes his ex, his ex's new boyfriend, his right-wing talk-radio-host mother, his parents' crumbling marriage, and his still-angry best friend.
As if these old problems weren't enough, Andy encounters an entirely new complication: Daisy. She has fifteen tattoos, no job, and her own difficult past. But she claims she is the only person who can help Andy be happy again, if only she weren't hiding a huge secret that will mess things up even more. Andy Carter needs a second chance at life, and Daisy—and the person Daisy pushes Andy to become—may be his last chance to set things right. ~amazon.com
Review:
We're All Damaged
is a book about family and how sometimes you have to leave to come home again. Andy ran away from home in his mid twenties because he couldn't deal with the blow that life had given him. So he went to the place where he could be anonymous, NYC. He wasn't happy but he wasn't unhappy. Until he gets a call that his grandfather is dying and he needs to return to Omaha.
Frankly, Andy is a mess. He's emotionally damaged and truly can't seem to move on. Being home has not helped but hampered any strides he might have made in New York. It's not just Andy who's a mess but his whole family seems to be floundering. His dad is shooting squirrels in the backyard and mom has completely changed her looks because she might be on the career path to being on Fox News. She's so focused on that, she can't see what else is going on with her family. She just doesn't want them to screw up her chance for the big leagues.
Even after the big reveal of Daisy, I still felt that she was so good for Andy. She taught him that it was Karen's loss and not his, that he needed to know that he was worthy of self-love and love. She was extremely good for his ego.
Mr. Norman has a fantastic knack for putting humor and wit into something that could be depressing. He captures real life so well with a satirical bent to it. I found myself chuckling about some of Andy's antics and his brother, Jim was a source of some laughs as well.
If you love books focused on family issues, then you really won't want to miss
We're All Damaged
. And why you are at it, you need to read his first novel,
Domestic Violets
!

Google+