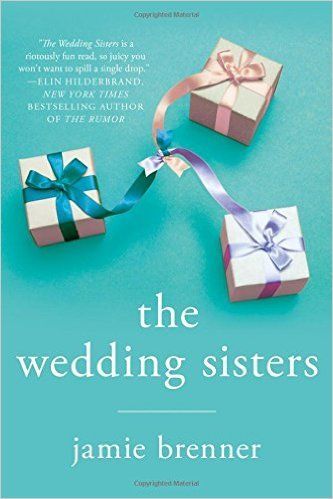 Author: Jamie Bremmer
Series: None
Publication Date: June 7, 2016
Publisher: St. Martin's Press
Pages: 320
Obtained: publisher via NetGalley
Genre: Contemporary Fiction, Women's Fiction
Rating: 5/5
Bottom Line: A good reminder of never settling for less than you are worth


G

rab,

J

ust get it at the library, or

R

emove from your TBR list? Grab!
Summary:
Meryl Becker is living a mother's dream. The oldest of her three beautiful daughters, Meg, is engaged to a wonderful man from one of the country's most prominent families. Of course, Meryl wants to give Meg the perfect wedding. Who wouldn't? But when her two younger daughters, Amy and Jo, also become engaged to celebrated bachelors, Meryl has to admit that three weddings is more than she and her husband, Hugh, can realistically afford.The solution? A triple wedding! At first, it's a tough sell to the girls, and juggling three sets of future in-laws is a logistical nightmare. But when Hugh loses his teaching job, and Meryl's aging mother suddenly moves in with them, a triple wedding is the only way to get all three sisters down the aisle. When the grand plan becomes public, the onslaught of media attention adds to Meryl's mounting pressure. Suddenly, appearances are everything - and she will do whatever it takes to keep the wedding on track as money gets tight, her mother starts acting nutty, and her own thirty year marriage starts to unravel.In the weeks leading up to the nuptials, secrets are revealed, passions ignite, and surprising revelations show Meryl and her daughters the true meaning of love, marriage and family. Jamie Brenner's
The Wedding Sisters
invites readers to the most unpredictable wedding of the year. ~amazon.com
Review:
The Wedding Sisters
is a wonderful story about figuring out who you are and what you want even if it means disrupting the plans you had for yourself. It is also about family and accepting that maybe who we are isn't necessarily how our family sees us.
Meet Meryl Becker a very nosy and overly involved mother of three girls. So when she finds out that her eldest Meg is going to marry a politician's son, she goes into overdrive mode to be the best hostess. She wants everything to be perfect but she also wants to be in control of the planning. So when the groom's family offers to pay for it and hire a planner, Meryl won't hear of it. Meg being practical, tells her future mother-in-law that some help might be wise.
We then have Amy, the middle daughter, who has been dating Andy for 5 years and is a bit miffed that her "perfect" older sister is getting married before her. Then Andy proposes and Amy feels the need to beat her older sister to the alter planning her wedding a month before her sisters. She's always felt competitive with Meg but being engaged at the same time fuels it even more.
Then you have the baby of the family, Jo, who's girlfriend leaves her just as she is thinking that maybe getting married to her sounds like a good idea. I think Jo's story is perhaps the most heart-wrenching because you just know it's not the right path for her or Toby, her best friend. It really is only going to end in disaster and heartache.
I laughed throughout the book because of some of the antics that the girls were going through and how Meryl was acting. Although at times I wanted to smack Meryl for the same reasons she made me laugh. The grandmother was a hoot but in the end her story was just has heart-wrenching as Jo's and perhaps made the girls really think about what love is and isn't.
I loved this family and how they really did come together at the end to overcome some pretty big issues within the confines of the family. When it mattered they pulled together. If you are looking for a great summer, vacation, pool read, then you will want to pick up
The Wedding Sisters
.

Google+