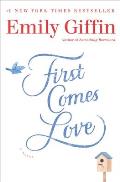 Author: Emily Giffin
Series: None
Publication Date: June 28, 2016
Publisher: Ballatine Books
Pages: 400
Obtained: Amazon Vine
Genre: Contemporary Fiction, Women's Fiction
Rating: 5/5
Bottom Line: How do you accept your family flaws and all, when you can't accept yours?


G

rab,

J

ust get it at the library, or

R

emove from your TBR list? Grab!
Summary:
Growing up, Josie and Meredith Garland shared a loving, if sometimes contentious, relationship. Josie was impulsive, spirited, and outgoing, Meredith hardworking, thoughtful, and reserved. When tragedy strikes, their delicate bond splinters. Fifteen years later, Josie and Meredith are in their late thirties, following very different paths. Josie, a first grade teacher, is single—and this close to swearing off dating for good. What she wants more than the right guy, however, is to become a mother—a feeling that is heightened when her ex-boyfriend's daughter is assigned to her class. Determined to have the future she's always wanted, Josie decides to take matters into her own hands. On the outside, Meredith is the model daughter with the perfect life. A successful attorney, she's married to a wonderful man, and together they're raising a beautiful four-year-old daughter. Yet lately Meredith feels dissatisfied and restless, secretly wondering if she chose the life that was expected of her rather than the one she truly desired. As the anniversary of their tragedy looms, and painful secrets from the past begin to surface, Josie and Meredith must not only confront the issues that divide them but also come to terms with their own choices. In their journey toward understanding and forgiveness, both sisters discover that they need each other more than they knew—and that in the search for true happiness, love always comes first. ~amazon.com
Review:
First Comes Love
is another fantastic book by Emily Giffin. I was thrilled when I read that she was going to tackle familial love in First Comes Love. Meredith and Josie are sisters that have never seen eye to eye or even gotten along. Meredith is wound tight and Josie is the free spirit. Meredith thinks that Josie's life is easy and that she has no clue on how to be responsible.
Josie thinks that Meredith has a great life and should loosen up a bit with her rigid rules that even Josie should follow. I will admit that Josie got under my skin and annoyed me. I had to keep reminding myself that she was the "older" sister because she seemed so selfish. Josie is single and looking for Mr. Right but she's tired of waiting to be a mom so she takes the matter into her own hands and decides to go with IVF. I wasn't sure if this was Josie being responsible or impulsive and selfish. Even at the end of the novel, I still wasn't sure.
Meredith had her issues as well but I could just identify with her a bit more. She felt stuck and worn down by life. She wasn't sure if the life she was living should be the one she was meant to live. Meredith isn't sure that the choices she made after her brother died were the right ones. Meredith isn't a very happy person and even a prescription for anti-depressants can't shake the feeling that something isn't right.
Closing the book, I'm not sure if Meredith and Josie will ever be each other's confidant but I do hope that they can find a way to see each other in the best light. It also made me extremely grateful for my sister and our relationship. I couldn't ask for a better best friend.
What Ms. Giffin does so well is write about relationships. I mean either Josie or Meredith could be your best friend complaining about their sister. She writes the heartbreak of losing someone close to you and the after effects with care and heart.
If you are a fan of Ms. Giffin's, you won't want to miss
First Comes Love
.

Google+