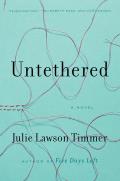 Author: Julie Lawson Timmer
Series: None
Publication Date: June 7,2016
Publisher: Putnam Books
Pages: 352
Obtained: publisher
Genre: Contemporary Fiction
Rating: 5/5
Bottom Line: Family isn't always defined by bloodlines


G

rab,

J

ust get it at the library, or

R

emove from your TBR list? Grab!
Summary:
Char Hawthorn, college professor, wife and stepmother to a spirited fifteen-year-old daughter, loves her family and the joyful rhythms of work and parenting. But when her husband dies in a car accident, the "step" in Char's title suddenly matters a great deal. In the eyes of the law, all rights to daughter Allie belong to Lindy, Allie's self-absorbed biological mother, who wants to girl to move to her home in California. While Allie begins to struggle in school and tensions mount between her and Char, Allie's connection to young Morgan, a ten-year-old-girl she tutors, seems to keep her grounded. But then Morgan, who was adopted out of foster care, suddenly disappears, and Char is left to wonder about a possible future without Allie and what to do about Morgan, a child caught up in a terrible crack in the system. ~amazon.com
Review:
Untethered
is a fantastic novel about what it takes to be a family. Char has no legal "hold" over her step-daughter Allie after her father dies in a tragic car accident but she's become quite attached to her. Allie's mom lives in California is expecting her to move out there as soon as possible but is willing to let her stay until the end of the school year.
As both Char and Allie both deal with their grieving, they shut each other out of their feelings. They lack in communication after Bradley dies. This leads them both down paths that cause both of them to feel under appreciated and unwanted. Throw in that the downward spiral of a young girl that the Hawthorn's have taken under their wings. Allie treats Morgan like a younger sister and always make sure she is included in things. As Allie struggles with accepting the loss of her father and the possible loss of the life she has in Michigan, Morgan becomes less of a focus for her. Sure she doesn't miss her Monday tutoring sessions but she doesn't have as much interest in her outside of those sessions.
Allie starts to hang out with the wrong crowd for all the wrong reasons but ones that seem logical to a 15 year old girl. Char isn't sure where to step in or how. She's afraid that pushing Allie about the friends will only drive her away.
There were so many emotions that hit me at different points in this novel. I was angry with both Char and Allie because they weren't talking about the important things, each tiptoeing around each other afraid of what the other one will say. I was mad at Morgan's parents for giving up because they couldn't deal. Isn't parenting about not giving up and dealing 90% of the time? I understood they had unique circumstances but they could have found other solutions. I loved that Char wanted to be there for Allie even if there was no legal bind to her. She had grown to love Allie and more than that she had grown into her roll as step-mom.
I love how Ms. Timmer wrapped up the novel. It left the characters in a good place and as a reader it didn't feel like it was too easy of a wrap up. I loved how she wove the story lines together and made you think about what it was to be a family. That sometimes it does take a village to help you through a tough time in your life. It also makes you think about all the children that fall through the cracks of our broken and outdated foster care system it makes your heart hurt. I'm glad that she told this story with that in mind.
Untethered
is a powerful story about how opening your heart and your mind will make a difference in lives including your own.

Google+