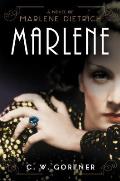 Author: C.W. Gortner
Series: None
Publication Date: May 24, 2016
Publisher: William Morrow
Pages: 416
Obtained: Historical Fiction Virtual Blog Tours
Genre: Historical Fiction
Rating: 4/5
Bottom Line: Intimate look at a truly extraordinary woman who paved her own way


G

rab,

J

ust get it at the library, or

R

emove from your TBR list? Grab!
Summary:
A lush, dramatic biographical novel of one of the most glamorous and alluring legends of Hollywood's golden age, Marlene Dietrich—from the gender-bending cabarets of Weimar Berlin to the lush film studios of Hollywood, a sweeping story of passion, glamour, ambition, art, and war from the author of Mademoiselle Chanel. Raised in genteel poverty after the First World War, Maria Magdalena Dietrich dreams of a life on the stage. When a budding career as a violinist is cut short, the willful teenager vows to become a singer, trading her family's proper, middle-class society for the free-spirited, louche world of Weimar Berlin's cabarets and drag balls. With her sultry beauty, smoky voice, seductive silk cocktail dresses, and androgynous tailored suits, Marlene performs to packed houses and becomes entangled in a series of stormy love affairs that push the boundaries of social convention. For the beautiful, desirous Marlene, neither fame nor marriage and motherhood can cure her wanderlust. As Hitler and the Nazis rise to power, she sets sail for America. Rivaling the success of another European import, Greta Garbo, Marlene quickly becomes one of Hollywood's leading ladies, starring with legends such as Gary Cooper, John Wayne, and Cary Grant. Desperate for her return, Hitler tries to lure her with dazzling promises. Marlene instead chooses to become an American citizen, and after her new nation is forced into World War II, she tours with the USO, performing for thousands of Allied troops in Europe and Africa. But one day she returns to Germany. Escorted by General George Patton himself, Marlene is heartbroken by the war's devastation and the evil legacy of the Third Reich that has transformed her homeland and the family she loved. An enthralling and insightful account of this extraordinary legend, Marlene reveals the inner life of a woman of grit, glamour, and ambition who defied convention, seduced the world, and forged her own path on her own terms. ~amazon.com
Review:
Marlene A Novel
is a fascinating and intimate look at the famed German actress Marlene Dietrich. I was vaguely aware of her as a film star and pretty much knew zilch about her life. She lived a very full and rich life to say the least. She fought for her fame and for her privacy. She knew how to work an audience and play the seductress on screen. She was also a great seductress in her personal life.
Marlene wasn't shy about going after what she wanted or trying new things. She was willing to give acting a try when the violin wasn't going to be the career her mother wanted for her. Her mother was a strict woman who expected nothing but propriety from her girls. She cleaned houses day and night to provide a proper education for her 2 girls, even if Liesel was educated at home. She demanded the best from her children, so when Marlene was kicked out of school, her mother was none to pleased. For Marlene, this was the beginning of her forging her way from her strict upbringing and the way to break free of her mom's house.
Marlene was adventurous in every aspect of her life and she was always willing to try something new and go the extra mile. I would also say she is the poster child for pushing the envelope. She does it in her marriage and she does it in her career.
What I admired about her the most was her fierce loyalty to those that were in her circle. Even if you grew apart and found yourself back in her life, she never held a grudge. She also was generous when it came to refugees from Germany during WWII. She tried to do as much as she could to help as many people as she could.
I do love books about Old Hollywood or the Golden Age of Hollywood. The woman who were actresses truly paved the way for today's starts. The business of Hollywood was so different than as well because a studio gave you a contract and you couldn't work outside that studio unless they loaned you out.
C.W. Gortner does a fanatstic job of displaying the brave and outstanding that Marlene truly was. She was before her time in all aspects of her life. It is was evident to this reader that the author admired her gumption very much.
If you love novels about strong, vibrant women, then you must not miss
Marlene
.

Google+