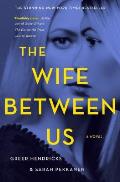 Author: Sarah Pekkanen & Greer Hendricks
Series: None
Publication Date: January 9, 2018
Publisher: St. Martins Press
Pages: 352
Obtained: publisher via NetGalley
Genre: Suspense
Rating: 5/5
Bottom Line: Holy smokes!


G

rab,

J

ust get it at the library, or

R

emove from your TBR list? Grab
Summary:
When you read this book, you will make many assumptions. You will assume you are reading about a jealous ex-wife. You will assume she is obsessed with her replacement – a beautiful, younger woman who is about to marry the man they both love. You will assume you know the anatomy of this tangled love triangle. Assume nothing. Twisted and deliciously chilling, The Wife Between Us exposes the secret complexities of an enviable marriage - and the dangerous truths we ignore in the name of love. Read between the lies. ~amazon.com
Review:
Wife Between Us
is one of those books that is impossible to review because to do it justice would be to give away its secrets. I will say that whenever a favorite author moves to a different genre, you always hope that it will be a smooth transition and for Ms. Pekkanen, she hit it out of the park. She partnered up with her long time editor, Greer Henricks to write this one. What I want to know is who wrote what character because they were so seemless.
Things are not what they appear in the novel. You will think you have it all figured out. Jealous wife who can't quite let her husband go. He's been patient, perhaps even kind but the harassment of his new fiance needs to stop. It can't though because Vanessa feels like she needs to save her. It's not quite clear in the beginning exactly what she's trying to save her from other than Vanessa. Vanessa is off-kilter. She's slowly losing it. She's focusing on what she's lost, instead of moving forward with her life.
You kind of want to shake Vanessa, you want her to wake up and move on. Yet you don't know the full story quite yet. When the shoe drops and then the other shoe drops, it might leave your mouth dropped open.
So that's where I leave it because if I say much more I'll spill the beans. If you think this is a typical domestic thriller, then you'll need to read to the end because it's when it all comes together.
Wife Between Us
will be the suspense book of the Winter, so don't miss out.

Google+