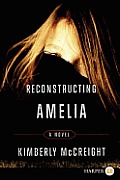 Author: Kimberly McCreight
Series: None
Publication Date: December 3, 2013
Publisher: Harper Perennial
Pages: 400
Obtained: friend
Genre: Contemporary Fiction
Rating: 4.5/5
Bottom Line: A cautionary tale for all parents


G

rab,

J

ust get it at the library, or

R

emove from your TBR list? Grab
Summary:
In Reconstructing Amelia, the stunning debut novel from Kimberly McCreight, Kate's in the middle of the biggest meeting of her career when she gets the telephone call from Grace Hall, her daughter's exclusive private school in Park Slope, Brooklyn. Amelia has been suspended, effective immediately, and Kate must come get her daughter—now. But Kate's stress over leaving work quickly turns to panic when she arrives at the school and finds it surrounded by police officers, fire trucks, and an ambulance. By then it's already too late for Amelia. And for Kate. An academic overachiever despondent over getting caught cheating has jumped to her death. At least that's the story Grace Hall tells Kate. And clouded as she is by her guilt and grief, it is the one she forces herself to believe. Until she gets an anonymous text: She didn't jump. Reconstructing Amelia is about secret first loves, old friendships, and an all-girls club steeped in tradition. But, most of all, it's the story of how far a mother will go to vindicate the memory of a daughter whose life she couldn't save. Fans of Gillian Flynn's Gone Girl will find Reconstructing Amelia just as gripping and surprising. ~amazon.com
Review:
Reconstructing Amelia
is one of those books that all parents and teens should read. It touches on many things including bullying, social media and the complexities of teenage relationships/friendships. It makes me happy that I grew up when I did when being a teen wasn't easy but it sure was a lot less complex.
Kate feels that her and Amelia have a strong relationship even if Kate works long hours as an attorney. She makes sure she carves out time on Fridays and Sundays for them to spend together. Still Kate isn't stupid, she knows that her daughter surely keeps secrets from her, what teenager doesn't. It isn't until she gets the call from the school that Kate wonders exactly what her daughter is keeping from her. Except when Kate gets to the school, she's informed that her daughter has jumped from the roof of the school because she was caught cheating.
As Kate delves into her daughter's life, she wonders how well she knew her and what she could have done differently. Guilt eats at Kate. As she starts to think that maybe Amelia didn't jump to her death, she starts to push for the truth. She uncovers various things that are going on in her daughters life and how her own choices affected Amelia.
Ms. McCreight does an excellent job of exploring how much of a teenagers life can a parent really know, especially these days with social media. What lengths would you go to for proof that your child didn't commit suicide? What if the truth was more complex and hurt more than you could ever imagine, would you still want to know?
Reconstructing Amelia
examines all of these things in a way that will petrify you but also serve as a wake up call.

Google+