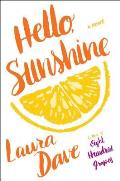 Author: Laura Dave
Series: None
Publication Date: July 11, 2017
Publisher: Simon & Schuster
Pages: 256
Obtained: publisher
Genre: Contemporary Fiction
Rating: 3.75/5
Bottom Line: A good read about being true to yourself


G

rab,

J

ust get it at the library, or

R

emove from your TBR list? Library
Summary:
Sunshine Mackenzie has it all…until her secrets come to light. Sunshine Mackenzie is living the dream—she's a culinary star with millions of fans, a line of #1 bestselling cookbooks, and a devoted husband happy to support her every endeavor. And then she gets hacked. When Sunshine's secrets are revealed, her fall from grace is catastrophic. She loses the husband, her show, the fans, and her apartment. She's forced to return to the childhood home—and the estranged sister—she's tried hard to forget. But what Sunshine does amid the ashes of her own destruction may well save her life. In a world where celebrity is a careful construct, Hello, Sunshine is a compelling, funny, and evocative novel about what it means to live an authentic life in an inauthentic age. ~amazon.com
Review:
Hello Sunshine
is a story about falling from the pedestal of stardom into the abyss being ostracized. Sunshine is at the peak of her career, she's beloved by her millions of fans and is about ready to launch a Food Network show that she couldn't be more excited about. Her public persona is all about good, farm to table food but there's a secret; Sunshine can't even cook let alone put together a recipe. So when her carefully cultivated career comes tumbling down and everyone close to her bails, she has no where to go except back home where she's tried to escape from for years.
Except things at home have changed as well. Her older sister, isn't exactly happy to see her and in fact doesn't really want Sunshine around. Except within a short period of time Sunshine and her niece, Sammy have formed a pretty strong bond much to Rain's chagrin.
By the end of the novel, I'm not quite sure if Sunshine's learned her lesson but I think she's on the way based on some of her actions. For a while she keeps thinking that she can build herself up for fame again but maybe that should have never been her goal in the first place. I figured out the twist pretty quickly and was waiting for her to figure it out.
There were a few strings that weren't tied up in the story, which probably should have been but they weren't so important that they took away from the book. If you are looking for a quick read and a peek into foodie celebrity,
Hello Sunshine
is the book for you.

Google+