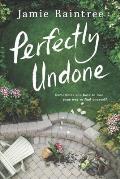 Author: Jamie Raintree
Series: None
Publication Date: October 3, 2017
Publisher: Graydon House
Pages: 304
Obtained: publisher via Netgalley
Genre: Contemporary Fiction
Rating: 3.5/5
Bottom Line: A bit predictable at times but has a great message


G

rab,

J

ust get it at the library, or

R

emove from your TBR list? Library
Summary:
Dr. Dylan Michels has worked hard for a perfect life, so when her longtime boyfriend, Cooper, gets down on one knee, it should be the most perfect moment of all. Then why does she say no? For too many years, Dylan's been living for her sister, who never got the chance to grow up. But her attempt to be the perfect daughter, perfect partner and perfect doctor hasn't been enough to silence the haunting guilt Dylan feels over her sister's death—and the role no one knows she played in it. Now Dylan must face her past if she and Cooper stand a chance at a future together. But when Cooper makes a startling confession of his own, can Dylan find the courage to define her own happiness before her life becomes perfectly undone? Set among the breezy days of a sultry Portland summer, Perfectly Undone is a deeply moving novel of family secrets, forgiveness and finding yourself in the most surprising of places. ~amazon.com
Review:
Perfectly Undone
shows us that appearances aren't always what they seem and this is true for Dylan and Cooper. On the outside they seem to have it all; great careers, great house, great relationship but nothing is perfect. Obviously, they are picture perfect but there are cracks. Dylan throws herself into her work because she's dedicated, loves what she does but she's also obsessed. When she gets passed over for a grant,she starts to lose her grip and question her path in life. How can she make a difference if she's not given the means to do so?
Dylan holds herself responsible for her sister's death and believes that she can fix this wrong by dedicating herself to her work to help women. Of course she starts to crack under the pressure she's put on herself. It's how she starts to pull herself together that the real story emerges. It is how we respond in trying times that show us what we are made of. Dylan has always relied on other people to push her or to be her reason, it's time for her to learn to trust herself.
There are a few cliches that are weaved throughout the novel but if you can get over them, then it's worth it to find Dylan coming into her own.

Google+