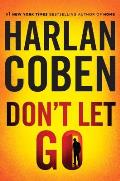 Author: Harlan Coben
Series: None
Publication Date: September 26, 2017
Publisher: Dutton
Pages: 368
Obtained: Library
Genre: Mystery
Rating: 5/5
Bottom Line: Never, ever a let down from Mr. Coben


G

rab,

J

ust get it at the library, or

R

emove from your TBR list? Grab
Summary:
Suburban New Jersey Detective Napoleon "Nap" Dumas hasn't been the same since senior year of high school, when his twin brother Leo and Leo's girlfriend Diana were found dead on the railroad tracks—and Maura, the girl Nap considered the love of his life, broke up with him and disappeared without explanation. For fifteen years, Nap has been searching, both for Maura and for the real reason behind his brother's death. And now, it looks as though he may finally find what he's been looking for. When Maura's fingerprints turn up in the rental car of a suspected murderer, Nap embarks on a quest for answers that only leads to more questions—about the woman he loved, about the childhood friends he thought he knew, about the abandoned military base near where he grew up, and mostly about Leo and Diana—whose deaths are darker and far more sinister than Nap ever dared imagine. ~amazon.com
Review:
Honestly, every time I pick up a book from Mr. Coben I'm not disappointed and he's done it again with
Don't Let Go
. Nap is a character that you will like even if some of his actions are questionable but he's a great detective. This time the case is personal when the prints of his long-ago girlfriend show up at a crime scene where a cop is killed.
Nap has never gotten over the fact that his girlfriend from 15 years ago disappeared into thin air right after his brother died. He's never really bought the story that his brother and his girlfriend committed suicide together, something always nagged at him about it. So when cops from Philly show up to question him about why he put Maura's fingerprints into the national system, Nap is pulled back into the mystery that shrouded her disappearance years ago.
As Nap starts to ask questions and un-bury long harbored secrets, he begins to find out that things aren't always what they seem and some conspiracy's are not only true but sometimes wilder than the theory itself.
It's not that the outcome is shocking or that there are a bunch of "shoe dropping" moments but its the story telling by Mr. Coben that solidifies this novel as one of my favorite of 2017. He makes you care about the characters, what happens to them and the resolution of the mystery.
If you haven't read Harlan Coben,
Don't Let Go
is a great stand alone to start with and then work your way through his back list.

Google+