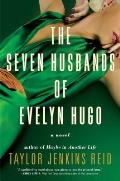 Author: Taylor Jenkins Reid
Series: None
Publication Date: June 3,2017
Publisher: Atria
Pages: 400
Obtained: publisher
Genre: Women's Fiction
Rating: 4.5/5
Bottom Line: Not at all what I expected but it was wonderful


G

rab,

J

ust get it at the library, or

R

emove from your TBR list? Grab
Summary:
Aging and reclusive Hollywood movie icon Evelyn Hugo is finally ready to tell the truth about her glamorous and scandalous life. But when she chooses unknown magazine reporter Monique Grant for the job, no one is more astounded than Monique herself. Why her? Why now? Monique is not exactly on top of the world. Her husband has left her, and her professional life is going nowhere. Regardless of why Evelyn has selected her to write her biography, Monique is determined to use this opportunity to jumpstart her career. Summoned to Evelyn's luxurious apartment, Monique listens in fascination as the actress tells her story. From making her way to Los Angeles in the 1950s to her decision to leave show business in the '80s, and, of course, the seven husbands along the way, Evelyn unspools a tale of ruthless ambition, unexpected friendship, and a great forbidden love. Monique begins to feel a very real connection to the legendary star, but as Evelyn's story near its conclusion, it becomes clear that her life intersects with Monique's own in tragic and irreversible ways. ~amazon.com
Review:
The Seven Husbands of Evelyn Hugo
is a book about the choices we make and the consequences of those choice on our life and those we love the most. Evelyn Hugo is one of the most famous actresses from the 1950s and 1960s with her fair share of scandals. Now she's ready to tell her story without apologies. Although even at the beginning you have to wonder what is in it for her? What's her angle because Evelyn always has one.
Monique Grant is a journalist with Viviant magazine who Evelyn has requested to do a piece on her for the magazine, only that's not what she wants. Monique is to write her biography and to publish it after she dies. Which means that Monique will make millions off of it. She just has to figure out how to handle it with her boss at Vivant.
I won't go into the details of all seven marriage of Evelyn's but each one took a piece of her and also helped her accomplish a goal. Evelyn wasn't anything if not resourceful and strategic. Evelyn very rarely felt remorse for the things that she had done. It is this and the fact that she states, several times, that she would do it all again even if it had the same outcomes and hurt the same people. How honest is that? It is what made me admire her just like Monique did.
This book might have been a stray from what Ms. Reid usually writes about but it still has her humor and eloquence. While the novel has several themes running throughout it, the main one is love. It always comes down to the ones we love the most and what we will do for them.
I highly recommend
The Seven Husbands of Evelyn Hugo
for any one who wants a wonderful book that is character driven and centered around a strong female.

Google+